I'm a Celebrity contestants using hypnosis to win?
Posted on
It's time to face the Jungle and all of your phobias and fears.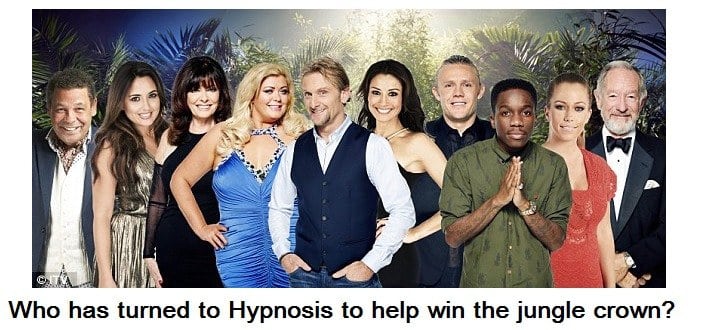 I'm a Celebrity 2014 is here. The celebrities have flown down under and are ready to enter the jungle and to compete for the crown that last year was won by Kian Egan from Westlife. Are any of them using hypnosis and hypnotherapy or EFT and EMDR to give them the edge...and what are those things? I hear on the grapevine at least one celebrity has had some help so they can end their fears...

This year Ant and Dec are being joined down under by TV newsreader Michael Buerk, The Only Way Is Essex star Gemma Collins, TV presenter Melanie Sykes and former Playboy playmate Kendra Wilkinson, Coronation Street and Red Dwarf actor Craig Charles, former Wigan footballer Jimmy Bullard, motorbike champion Carl Fogarty MBE, model and singer Nadia Forde, 'Allo 'Allo actress Vicki Michelle and rapper Tinchy Stryder.
But even though they have signed up are they really ready for everything that the Australian jungle has to throw at them?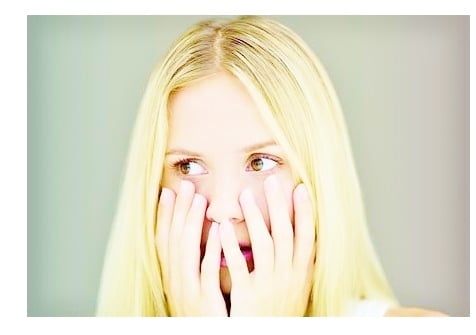 Most of the entertainment in I'm a celebrity comes from watching them face up to their fears, and if this year is anything like past years then no one will have learned any lessons at all!
Every year someone shows they are vulnerable and starts to shake and quake with fear when confronted with spiders, rats, cockroaches, or sent up high, or even being locked in a box in the dark.(perhaps you feel the same when you watch and imagine it was you doing it!)
Whoever shows the most fear then gets voted to do the next task and so it continues! On and on until the audience get bored and move on to someone else.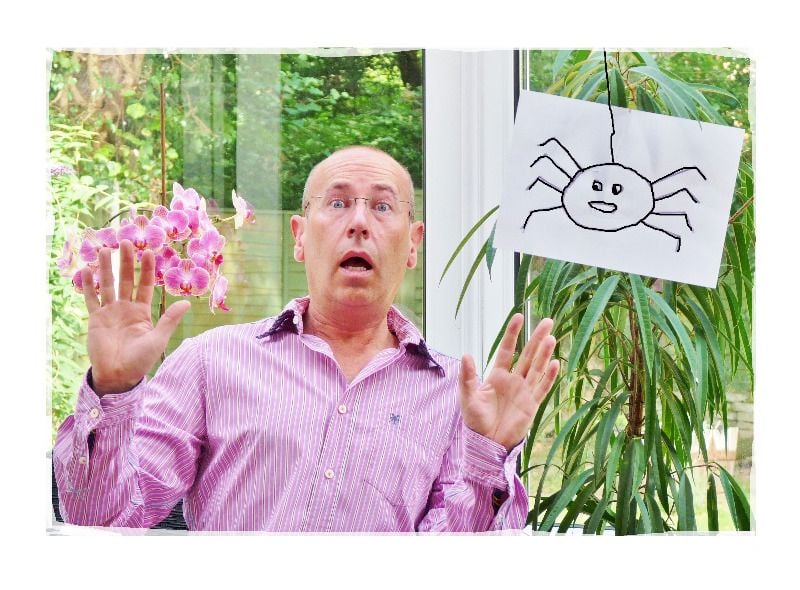 But why are some people more concered and worried than others and what is the difference in the reactions...where does it come from?
Well, it may surprise you to learn that in fact it is all learned...and often from a parent. When you see one of the young girls crying with fear at having to hold a spider you could almost put money on the fact that as a child they had a mother who was scared of spiders. Does this sound like it may be you perhaps?
You only have two real fears at birth.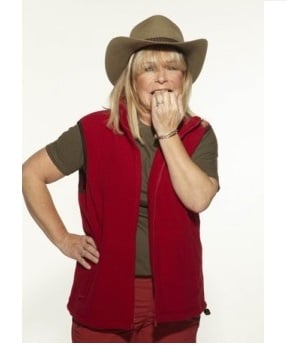 We are only born with two fears... a fear of falling and a fear of loud noises and so everything else is learned by you. If you learned it in the first place this means you can unlearn it too!
Linda Robson and Hypnotherapy for her fear of Rats and spiders

Back in 2012 Birds of a Feather star Linda Robson went into the jungle and it was reported that she had undergone hypnosis and hypnotherapy before I' ma Celebrity to help her with a spider and rat phobia. She spoke about how she had wanted to go into the jungle for many years but was unable to make the journey down under before because the fear was too great.
Would you like to end your phobia?
So...the really good news is that if you have learned those fears then you can unlearn them too. This means that you can end any fear you have and then you can live the life you want to. I have had clients who couldn't even go in certain rooms because they saw a spider in one and now avoid it. Fears and phobias are in fact some of the easiest things to help people with...
So YOU can overcome your fear or phobia forever ?

CLICK the picture to find out how...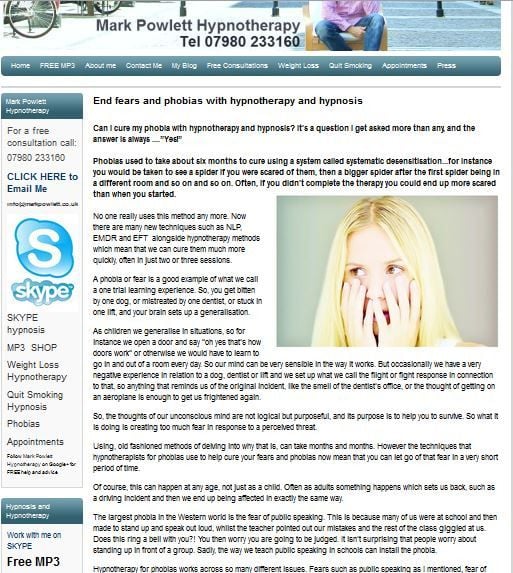 As you watch the bushtucker trials pan out then you can start to see the difference in the way that the celebrities handle them. Those who have already let their imaginations run riot and decided that they will be scared will be! Those who imagine it will all be fine will in fact breeze through and find that they can earn the camp lots of lovely, or at least adequate, food for dinner.
I heard a little rumour that one of the celebrities saw a very expensive celebrity Hppnotherapist to help them get the edge, and help them win by overcoming a fear of heights. I wonder if you can guess who it was?!

Learn more about a fear of spiders here: http://www.markpowlett.co.uk/fearofspidersarachnophobiahelp.html
Much more information about how we get out fears and how easy it can be to let go of them forever here: http://www.markpowlett.co.uk/hypnotherapyforphobias.html
Your fear doesn't have to be something that only happens in the jungle. You may have a fear of spiders or a fear of creepy crawlies. You may be scared of driving on a motorway of have a phobia of heights. It doesn't matter what your phobia is....it really is something that you do not have to live with any more.