Derren Brown Ghost Train Review Thorpe Park
Posted on
All aboard the Ghost Train
SPOILER ALERT: Do not read this unless you want to find out what happens on Derren Brown's Ghost Train
It's a ride at a theme park that has at last opened. A soft opening means that many people have been able to ride before the official opening date of 21st July 2016 when the park and its newest experience opens to celebrities raring to go and preparing to tweet and instagram their pictures as they ride the train. A celebrity opening event is now a must have as social media and reviews can spread like wildfire.
The first riders have been able to experience the thrill of Derren Brown's Ghost Train as passengers alight at Thorpe Park and finally get to ride this new immersive ride.
The journey towards its opening has been as long as many on public transport due to leaves on the line and a replacement bus service. In fact even when the ride actually opened in early July it ended up being closed and evacuated due to a power failure on the first Sunday it was working...or perhaps that was all part of the experience!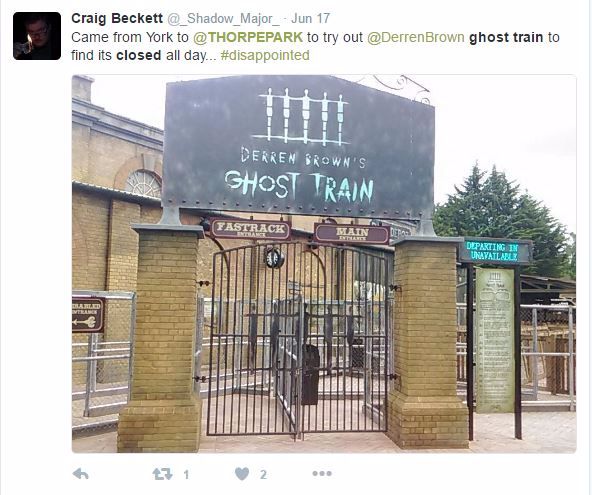 Get Derren Brown Audiobooks FREE on Audible Trial CLICK HERE

What do people think of the ride? What kind of reviews is it getting and what is riding the Ghost Train really all about?
I want to talk about it and give you some ideas but I certainly don't want to spoil it for anyone, so at the moment there is no need to say Spoiler Alert, because I want to give you a flavour without giving away all of its secrets.
The only way to really experience it will be for yourself of course.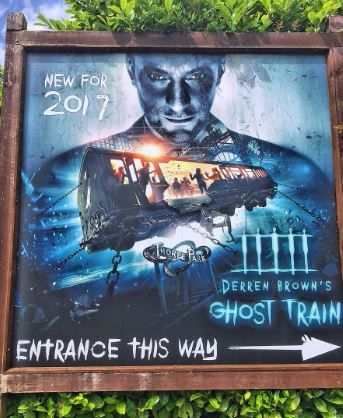 So...What happens on the Ghost Train Ride at Thorpe Park?
When the ride was announced there was great fanfare and a lot of talk about the fact that this was the first experience of its type in a theme park ride.
As the Thorpe Park Website itself says:
COMING SOON, A WORLD'S FIRST ONE-OF-A-KIND EXPERIENCE LIKE YOU HAVE NEVER SEEN BEFORE ARRIVES AT THORPE PARK RESORT. RE-INVENTED FOR THE 21ST CENTURY, THIS GHOST TRAIN WILL BLOW YOUR MIND!
CRAFTED BY THE MASTER OF MIND CONTROL, DERREN BROWN, THIS ONE-OF-A-KIND 13-MINUTE THEME PARK EXPERIENCE WILL BE THE WORLD'S ONLY FULLY IMMERSIVE PSYCHOLOGICAL ATTRACTION DESIGNED TO MANIPULATE THE HUMAN MIND.
AT THE HEART OF THE ISLAND YOU DISCOVER A DISUSED WAREHOUSE. AS YOU ENTER A SEEMINGLY INNOCENT VICTORIAN TRAIN CARRIAGE, IT SOON BECOMES CLEAR AS SIGHTS AND SOUNDS FILL YOUR SENSES, THAT YOU WILL COME FACE-TO-FACE WITH WHAT LIES AT THE END OF THE LINE.
Derren Brown...'This is the ghost train re-imagined. This is my ghost train'


There are now many attractions that use actors to help create a real atmosphere and now this new ride ads to that list. Over thirty years ago I visited an attraction in Florida called "Terror on Church Street" where you entered a series of rooms with half a dozen other people and then came face to face with horror actors who chased you with chainsaws like Freddy Kruger or jumped out of the shadows at you. I wonder if Derren visited himself and first thought of some of the ideas that he is using here.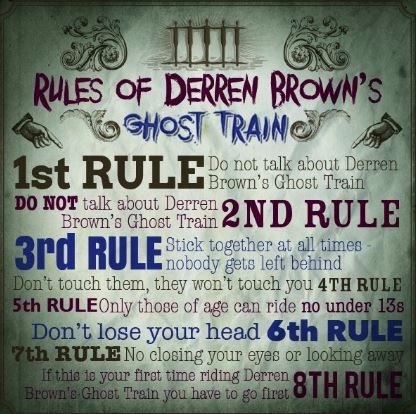 The Ghost Train at the Centre of the ride
The centrepiece of the attraction is a large train carriage that is suspended 3 metres in the air and is 26 metres wide. It has taken over 1000 people 3 years to build and even includes Vive Virtual Reality Headsets.
The ride was due to open earlier in the year but delays meant disappointment for many as heading into July 2016 the ride is at last open to the first few lucky punters eager to see what Derren Brown will do to their minds.
Each journey lasts for 12-15 minutes and this is because Derren knew that rollercoaster rides are often over so quickly that the hours you spend queuing need to be worth it. Because of the technology and the use of Vive Virtual Reality Headsets the experience that you have won't be the same as your neighbours. There are in fact twelve different permutations to what happens, so you may well find that you want to jump back in the queue and then ride again after speaking to your friends and seeing what happened to them.
One of the aims of the ride was that it wouldn't be so scary that you came off terrified, but that it was scary enough that you got a buzz and enjoyed it. More of a nervous laughing situation that one of crying !
He has said : "I do love the idea of being really scared of something," admits Brown, "I think that the idea of getting really scared in a safe environment, there's something very cathartic about that isn't there?"
Ride restrictions
It's interesting to note that this ride has the longest list of ride restrictions in the whole of the park. In fact the boards that surround it say those who suffer from (deep breath); epilepsy, fear of confined spaces or heights, reality perception problems, a nervous disposition, anxiety, panic attacks, motion sickness or dizziness should keep clear.
Of course, all of this adds to the mystery and mayhem that is already in your mind before you enter and this is something that Derren is a master at. His use of Hypnosis and hypnotic language, NLP patterns and much other are all useful in creating a theme park ride like Ghost Train.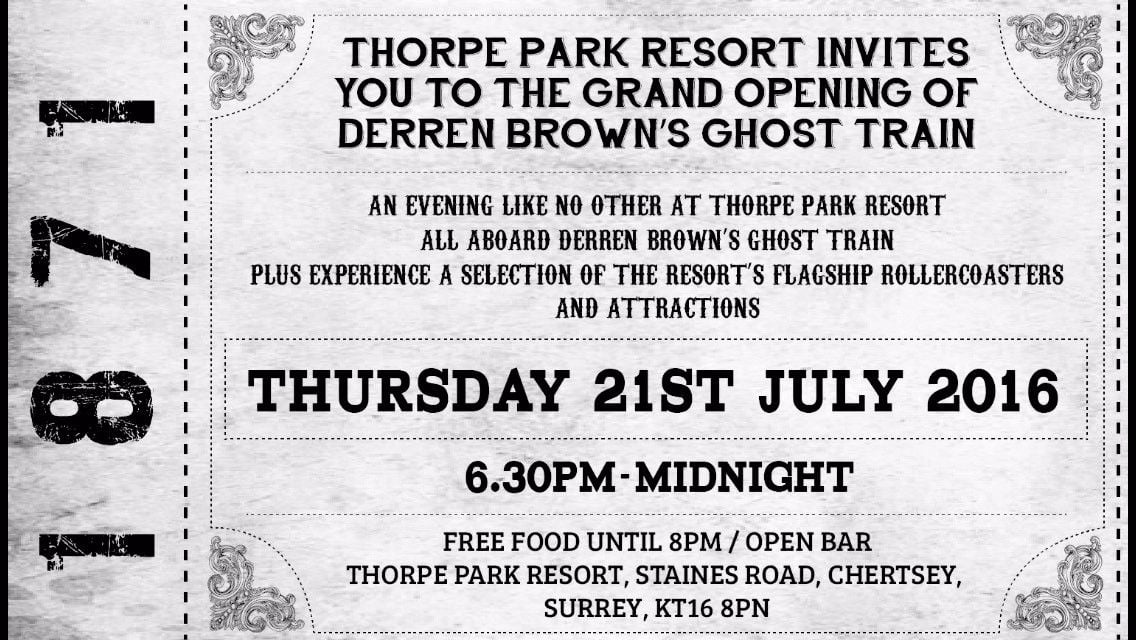 What Happens on the Ghost Train Ride at Thorpe Park?
So what happens on the ride then? Well I really don't want to spoil it, and of course as you now know there are 12 different stories and experiences going on here anyway. Let's just say that after you have been in the waiting room and the lights cut out, plunging you into darkness a hologram of the man himself tells us all about fear. From hear when you are led onto the train and strap on your headset....well perhaps it's best left up to you to find out!
The story of Ghost Train
What Happens on Derren Brown's Ghost Train Ride at Thorpe Park?
We are told through video, posters and other experience methods that a company called Sub Core has been drilling into the Earth searching for a replacement for our own dwindling resources. They are therefore looking for some kind of new, fantastical energy resource.
We see posters that hint at the changes needed to help our environment with phrases like "no water, no future, no fracking", and "leave the bad stuff underground."
Cleverly you then enter a decontamination checkpoint that has you flicking through images whilst of course taking your photo so that you can buy it after the experience has ended. These can be tough for people. How do you look? What expression are you showing? In this case it may be one of confusion and bewilderment.
Helping to build the anticipation and scare you even more is a poster that runs you through all of the symptoms should you be infected. At each stage, the infected become more aggressive and dangerous. The poster is scary enough and all helps to build that anticipation.
When you first glimpse the Victorian train carriage suspended in mid-air, you can't fail to be both impressed and a little scared. You can only wonder why an old train carriage, rather than a modern one?
Once you enter though the train is very different. It's actually a London Tube carriage. It's like you've just stepped onto the circle line after a day in the West End.
Hanging above each seat is a HTC Vive Virtual Reality headset, ready and waiting for you. Stewards will rush you into a seat and encourage you to put it on calling it a safety mask in order to protect you from infection
At this point....well perhaps you need to travel on the train yourself to find out !
If you want to see what it looks like inside then check out the video below of "Inside the Ghost Train"
What does Twitter make of the ride?
People have been taking to twitter to talk about their experiences and here are some of their comments..
@DerrenBrown just been on the ghost train all can say is wow amazing scary stuff






Been on the #ghost train @THORPEPARK... It was a great addition to the park and the VR was fantastic!
If you have ridden the Ghost train and want to add your own review or comments on how it feels to ride the Derren Brown experience then do please feel free to comment and share your thoughts.
Ghost Train Ride Reviews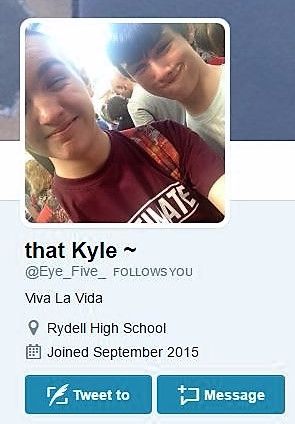 Today I rode Derren Brown's Ghost Train at Thorpe Park Resort. It was phenomenal. The attraction is fully immersive, it tests your mind to its limits. Surprisingly there is a restriction that under 13's will be turned away and not be able to ride. Luckily I am 13. In my opinion the attraction is the best on site. It has so many amazing components, from Virtual Reality to Live Action. The actors are great and make the experience amazing, the filmed actors on the VR (virtual reality) headsets are so talented and know what they're doing. I don't want to give to much away because we was told to keep what's inside, to ourselves. The attraction overall is very scary, bearing in mind I am 13 the ride was a heart beating, nail biting, eye squinting and jaw dropping. Overall definitely the best attraction I have been on. Highly recommend to thrill seekers out there, however you must be brave to conquer the train. It is a Ghost Train like no other and will revolutionise what theme parks can do. The ride is supposed to be mind bending, and leaving guests wondering where perception ends, and reality begins, honestly when the ride was over I was speechless, it's a fantastic addition to the park. If you want to know more than go and derail your mind at Thorpe Park Resort. I give this attraction 9/10. Phenomenal Thorpe Park, keep up the great work.
You can email me your own review or add yours in the comments if you want to share how the ride was for you with everyone else