Stoptober quit smoking with comedy and hypnosis
Posted on
This Stoptober is your chance to quit smoking for good. Use Comedy and Hypnosis for excellent results!
The government has signed up comedians including Al Murray and Paddy McGuinness, using humour for the first time to help persuade smokers to quit the habit this October, with a three-minute sketch show-style programme hitting TV screens today (8 September).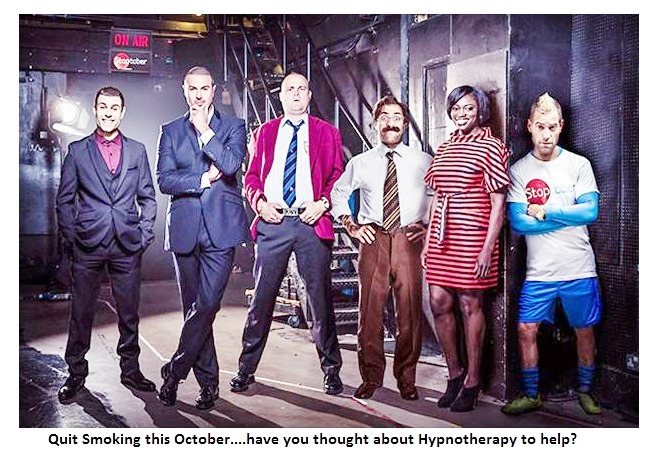 The £3.2m campaign by Department of Health body Public Health England (PHE) has been devised to sign up as many consumers as possible to its 28-day stop-smoking challenge.
The "show" will go live on ITV1 during tonight's airing of 'Emmerdale', with the TV work spearheading activity across other media, with content including videos, audio, written jokes, info-graphics and animated sketches.
The three-minute show and campaign's "Stoptopber" message will also be promoted via 30- and 10-second TV ads, with radio, cinema and digital media also carrying ads.
Stoptober is a great way to get the support that you need. Did you know that Hypnotherapy has been shown to be the most effective way to quit smoking. It is way about the success rate of patches and gum...60% of people were successful with a single session of hypnotherapy, 24% with acupuncture, 10% with Nicotine Replacement therapy (patches, gum etc) and just 6% with willpower alone.
This year Social media will play a big role in the campaign, driven via Stoptober's Facebook and Twitter pages.
Smokers who sign up to the challenge will receive messages of support at times they are most likely to suffer cravings, such as when they are drinking in the pub. An online hub called "Stop Blog" will carry sharable content from the comedians fronting the campaign.
In addition to Murray and McGuinness, comedians Simon Brodkin and Andi Osho have also signed up and the sketch show will feature some surprise guests.
A nationwide roadshow will tour the UK from 8 September to 11 October, with comedians heading to high-streets and shopping centres in 24 countries to recruit smokers.
Sheila Mitchell, Public Health England's marketing director, said: "Stoptober is swiftly establishing itself as a landmark event in the annual health calendar.
This is the first time that PHE has used humour to reach its audience, and marks a new approach to getting the country's eight million smokers to quit for good this year.
"Our approach of using insight-led content generated by our comedians, delivered in a timely manner through the channels our audience consumes, will help people throughout what can be a difficult and intimating challenge.
"It's a common British trait to use our sense of humour to help get through difficult times, so comedy is an excellent route to helping people stay motivated, as well as providing them with the necessary distractions, when quitting."
Last year's Stopober campaign resulted in 250,000 people attempting to quit, PHE said, with 65% of that number stopping smoking for the campaign's 28-day duration.
I have supported Stoptober since it first started and it is a great way to raise awareness and get that vital support that you need to help you quit smoking. I gave up myself with hypnotherapy years ago and being able to use the techniques that I was taught and can now teach others is a very rewarding way to help people to break the smoking habit. Did you know that Stop Smoking Hypnosis sessions take only about an hour and a half and after that you can also take away a personal recording which not only helps you with keeping yourself feeling great but also serves as a wonderful way to relax as well.
You can find out all about my quit smoking sessions here: http://www.markpowlett.co.uk/quitsmoking.html
You can email on at [email protected] or call me on 07980 233160 and I will be happy to answer any questions that you may have about quitting smoking with hypnotherapy and how well it works.
Here is the advert for Stoptober 2014 the 28 day challenge with Paddy McGuinness...