Hypnotherapy for Weight loss in January
Posted on
Although it is mid December and many people are still finishing off their Christmas shopping.. other people are already starting to think about weight loss hypnotherapy for the New Year. Is your new year's resolution to lose weight and get fit?
January is always a very busy time when it comes to helping people with hypnotherapy for weight loss. Whilst for much of the year I spend more time helping people with stress and anxiety that start of a new year is always the time that thinking about losing weight after Christmas comes to the fore. The phone starts ringing early in December because as time goes on and people who have already seen me tell their friends, they come to realise that unless they start to think about how to lose weight in January now then it may be too late to book an appointment when it comes to the time to look into weight loss hypnotherapy.
How does hypnosis to lose weight work?
It is important to know that hypnotherapy can help you to lose weight, feel more motivated and happier, fitter and so much more full of life. However, it doesn't do this by magic! You really have to want to make a change and if you feel half hearted about it then why on earth would it make a change? If you think that you can just close your eyes and then open them a while later having seen the fat melt off your body by magic then you are in for a surprise! What does happen is that you start to see all of the benefits and you find that unlike being on a diet all the time you can eat what you want to eat! There are no more restrictions on you and you can find that this means that rather than thinking about food all of the time (sound familiar!) you can enjoy your life and also enjoy your food.
How often have you eaten something that you felt you shouldn't have and then felt awful afterwards? Imagine not having that feeling and actually enjoying food once again.
Here's my Six Ways to lose weight without trying to help you on your way...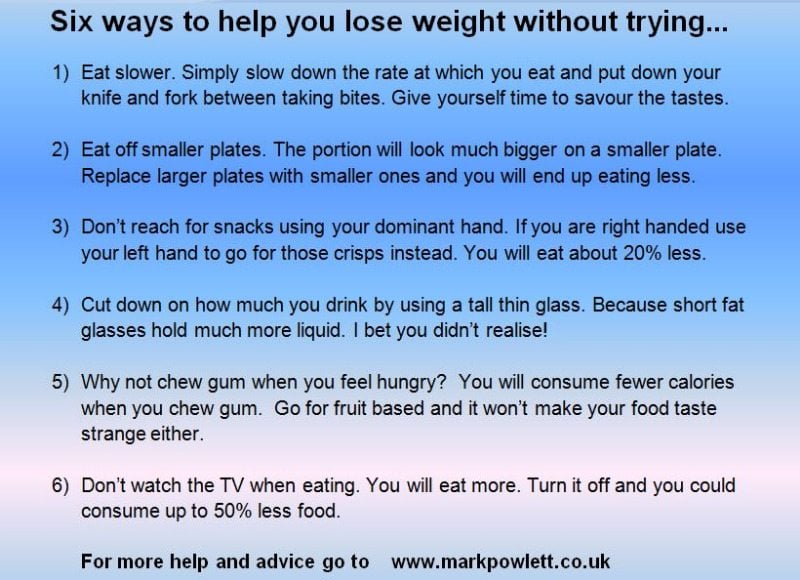 How do I know if hypnotherapy for weight loss works?
That's an easy one to answer! I know because it's how I keep the same waist size and weight now that I am in my late forties, as I had in my twenties. Like many people I started to put on weight as I got older but after many years of practicing what I preach I feel fit and healthy and I love feeling that way. I can't imagine being any other way for me. I won't be letting myself go because I know how good I feel now and why would I want that to change? If you look around the internet and search for weight loss hypnotherapy treatments you will find many hypnotherapists who really don't look like they practice what they preach.
Ask yourself this question: If you were looking for someone to help you get fit and be your own personal trainer would you go for the overweight one who struggled to climb up the stairs? Of course not. You need to have confidence in who you work with. That's why I don't need to use a stack photo from the internet of someone looking slim I can use one of my own....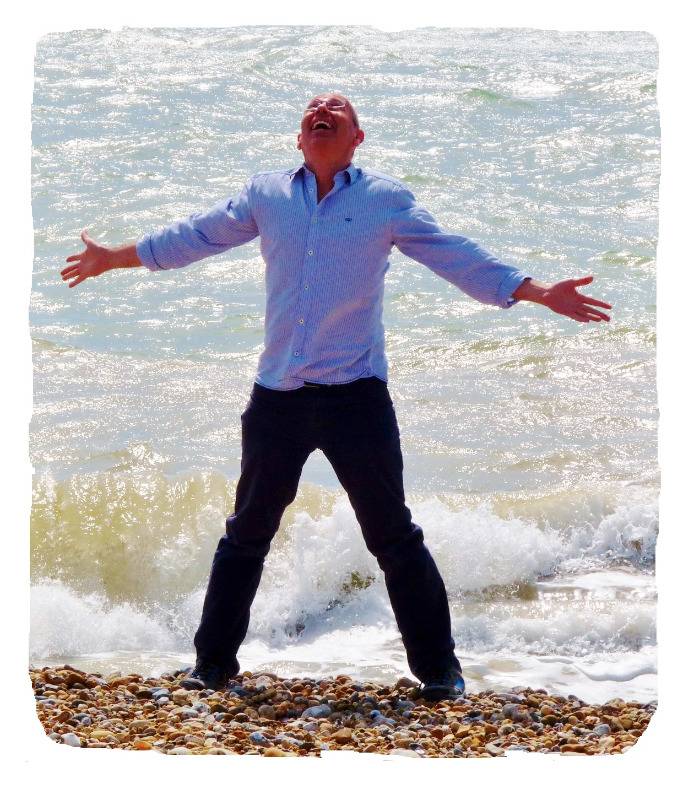 January is a great time to think about making that change because you will already be motivated, but it doesn't matter what time of year it is. If you are looking for help to lose weight, let go of bad habits and feel great for the future then any time is the right time!
You can read all about my Slimmer You - No More Diets Hypnotherapy for weight loss programme HERE: Weight Loss Hypnotherapy
You can call me on 07980 233160 or email me on [email protected] if you would like any advice or have any questions at all.