Mark Powlett BA(Hons), Dip(Hyp), HPD
When you are thinking about visiting a hypnotherapist it's really important to know a little about them. You really want to make sure that you can be happy that they are the right person for you. When searching for Hypnotherapists do make sure that you take your time to find out about their background and training.

I have had a varied career and all of the experience that I have gained assists me in being able to work with clients to help them to achieve what they really desire. My personal experiences of hypnosis and hypnotherapy led me to develop my practice.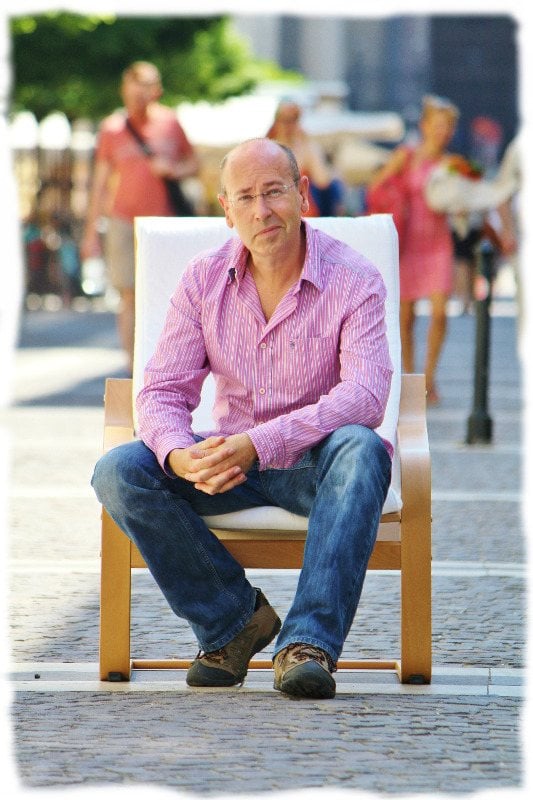 I spent many years working in the corporate sector for companies such as IBM and Barclays before I decided that a career change was what I really desired.
I then retrained and gained a drama degree and began working as an actor in theatre and television including time spent doing standup comedy (I even won the Virgin radio/LWT new stand up award). I starred in a well known Children's Television series, which was shown in over 120 countries worldwide, and still gets rerun constantly! I spent years working on this show and with thousands of children, both performing and teaching.
I went on to work as a radio presenter for the BBC including seven years with my own daily show, and presented networked radio shows across the region for

radio. I have spoken about hypnosis many times including with Jonathan Ross on BBC Radio 2. I also write about my life for publications such as The Guardian newspaper, and have been featured in Good Housekeeping magazine in a feature on helping to end sleeping problems.

All of this experience means that I really can help with any confidence issues because I know exactly how it can feel and I use techniques that I can teach you myself. I, like everybody, have been in stressful situations and have learned ways to deal with them, and I now enjoy teaching others the same techniques.
...And I sleep like a log, keep fit and healthy and wouldn't dream of smoking...all through my own hypnotherapy experiences.

If you would like to listen my free relaxation mp3 then just click HERE


I'm a fully qualified Clinical Hypnotherapy Practitioner (Dip Hyp), having studied at the Central England College. I am also qualified as an NLP practitioner, in Cognitive Hypnotherapy, Eriksonian and Solution Focussed Hypno-Psychotherapy.


Alongside these qualifications I also hold a HPD qualification accredited by the NCFE and government regulated. This Hypnotherapy Practitioner Diploma is only held by experienced practitioners. It is considered the Gold Standard in Qualification and is only held by about 20% of therapists.

I think that humour is also vital and being able to laugh and smile is very important for our well-being so there really is no need to worry about seeing me. I love meeting people and hearing their stories. I have been making a career out of it for a long time !

I promise you will find that it is a very enjoyable experience. I use a variety of techniques including EFT and EMDR and BWRT which I am fully trained and qualified in. Because of these methods I see many people who have had counselling or CBT but didn't quite get what they were looking for. As I am able to use the same techniques that you see in counselling plus my other training I can help you even if you feel that you couldn't be helped before.

Sometimes we simply need to talk to someone who is not part of our family or a friend where we know we can say anything and just be listened to. I can use CBT (Cognitive Behavioural Therapy) techniques as well as being there to listen such as you would experience if you were seeing a counsellor. Alongside these I also have many other techniques that can really help you to make the change that you are looking for.
I work regularly with children and have been DBS certificate checked (formally known as CRB check).
I lecture NHS medical students all about the benefits of hypnotherapy in helping to understand how powerful our minds are and help teach them techniques to turn down and manage pain with hypnosis. I even work out of a dental practice helping both patients and dentists.

Our sessions are usually scheduled on a weekly basis. Talking with our family and friends about our worries is a great thing to do. Sometimes though, their own expectations and agenda can affect their responses. It is hard for them to have a detached view thinking only about what is best for you. One of the great advantages of seeing a professional, even if you are talking to family and friends, is that there is no judgement or expectation. My only concern is you. When you are in front of me you will always be the most important person. You can talk with me in a safe and secure space and say whatever you wish with no fears of upsetting a family member or friend. Of course, everything is also confidential and between only us, so you can speak freely and honestly too.
If you would like to find out more please just give me a call on 07980 233160 or drop me an email on [email protected].
I would love to answer any questions that you have and explore how we could work together, and I really look forward to meeting you.
You can view a selection of newspaper articles featuring my work HERE


Hypnosis NLP practitioner and life coaching for giving up smoking losing weight fears and phobias Stoptober hypnotherapy Redditch Hypnosis

Mark Powlett
Mark Powlett Hypnotherapy in Redditch
Clinical Hypnotherapist
I help people to manage stress and anxiety, lose weight, quit smoking and end fears and phobias.
33 Berkeley Close
Redditch, Worcestershire
B98 0QB
United Kingdom
07980 233160
You can follow me on social media for lots of free help and advice