Testimonials
Here are a selection of client testimonials posted on online review forums and social media. You never know where testimonials come from so I have chosen to use ones publicly posted. Your session with me is of course confidential, and you may chose not to tell anyone. However, I have many clients who visit me after hearing about how I have helped family or friends and it is a great pleasure when a past client wishes to talk about their progress and share their story...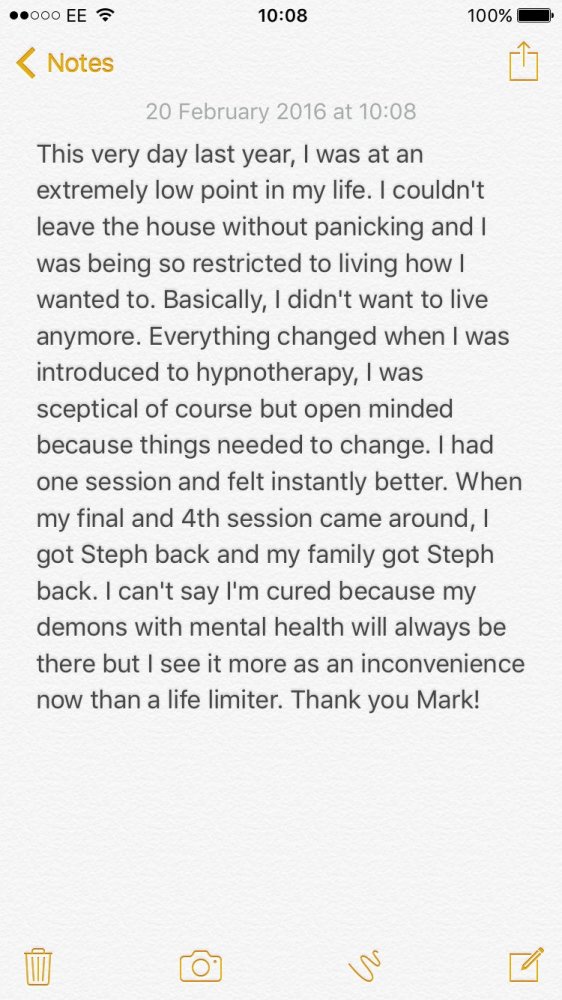 This very day last year, I was at an extremely low point in my life. I couldn't leave the house without panicking and I was being so restricted to living how I wanted to. Basically, I didn't want to live any more. Everything changed when I was introduced to hypnotherapy, I was sceptical of course but open minded because things needed to change. I had one session and instantly felt better.When my final and 4th session came round, I got Steph back and my family got Steph back. I can't say i'm cured because my demons with mental health will always be there but I see it more as an inconvenience now that a life limiter. Thank you Mark!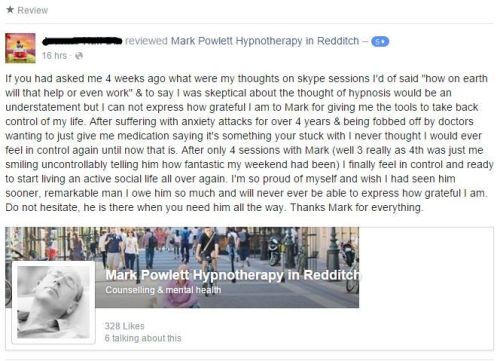 If you had asked me 4 weeks ago what were my thoughts on Skype session's i'd have said "how on earth will that help or even work" & to say I was sceptical about the thought of hypnosis woud be an understatement but I can not express how grateful I am to Mark for giving me the tools to take back control of my life. After suffering with anxiety attacks for over 4 years & being fobbed off by doctors wanting to just give me medication saying it's something youre stuck with I never thought I would ever feel in control again until now that is. After only 4 sessions with Mark (well 3 really as the 4th was just me smiling uncontrollably telling him how fantastic my weekend had been) I finally feel in control and ready to start living an active social life all over again. I'm so proud of myself and wish I had seen him sooner. Remarkable man I owe him so much and will never ever be able to express how grateful I am. Do not hesitiate he is there when you need him all the way. Thanks for everything.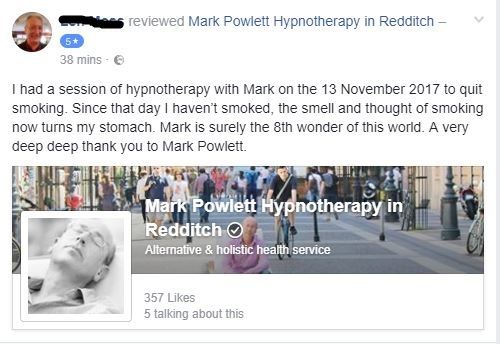 I had a session of hypnotherapy with Mark in November 2017 to quit smoking. Since that day I haven't smoked, the smell and thought of smoking now turns my stomach. Mark is surely the 8th wonder of this world. A very deep deep thank you to Mark Powlett.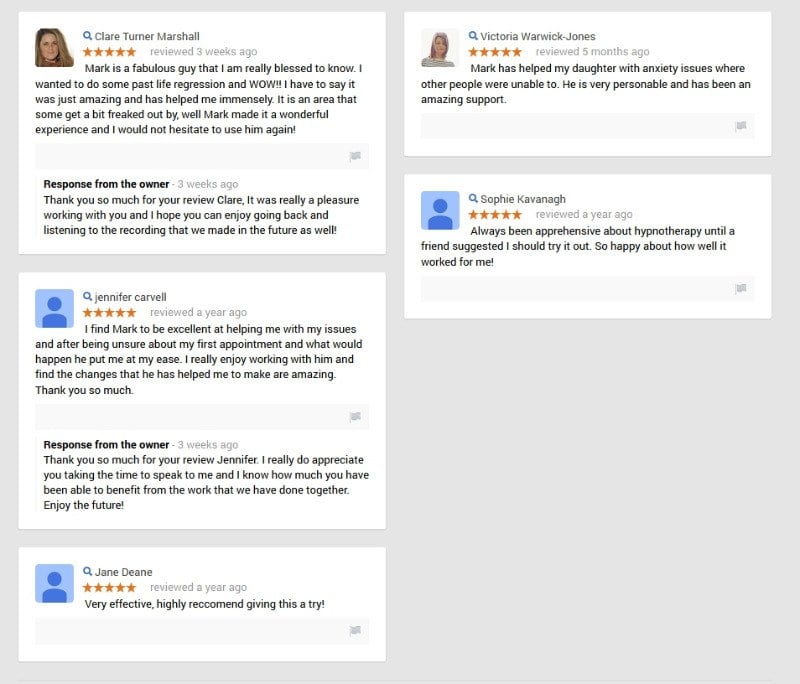 "Your recording has been invaluable; I listen to it every day, sometimes twice depending my mood. It really has helped me focus on myself and feeling calm, making life better for all of us. My life here is even busier and I drive long distances to school every day, on some of the scariest roads I have ever seen. I have through you learnt the powers of meditation, for that I will always be grateful. I drink far less now than I used to and don't use it as a way to wind down now." Sian M
"I have passed your name on to loads of folks and will keep doing so as you made a real difference to me. As for the riding I am more confident without a doubt and will be heading for the ski slopes too in Jan. I think of you each time I put the key in the lock and will of course be back for a booster very soon." Diana I
"Your relaxation technique really helped and I have regularly listened to the audio that you made for me. Just today, I was practising some deep-breathing, not that I was worrying or anxious, but just as a 'reminder' that I can call on these techniques whenever I want. I have recently (5 weeks ago) started a new job. I have settled in very well and found my confidence again." Alan C
I promised Mark I would leave a review for him on Google after I conquered my fear of Public Speaking.

After finding Mark upon a Google search close to my area. I read the reviews that was left to him and decided this was the person whom I had to see. As Mark is a very busy man and I am too, after a while of maintaining contact with each other we finally got to meet and schedule appointments and it was just in the nick of time for me, I was just 4 weeks away from delivering a best man speech at my best friends wedding.

When I met Mark he made me feel very relaxed, he is such a pleasant man to talk to and so soft spoken. I had no problem in opening up to Mark about my anxiety of public speaking and with his help we traced back to alot of the bad experiences I had in past life that had giving me this anxiety.

Mark left me with a recording that I found so helpful when I wanted to alleviate stress in the run up to the big day. The recording has always left me so relaxed and gets me straight back to a good headspace.

I had nerves on the day and I knew it was ok to have these. Every one was waiting the speech as they had informed me and this left me a little anxious, but I used small tips Mark had given me and I gave a speech for over 11 mins which I was very happy with and also was the audience, I am so happy I got to enjoy the experience. It was nothing like the bad experiences I have had before where I would get blur vision, shake and tremble in front of people.

So on that perspective, I would like to say Thank You so much Mark for helping me conquer my fear of public speaking in a more than confident way that I ever thought or dreamt I could.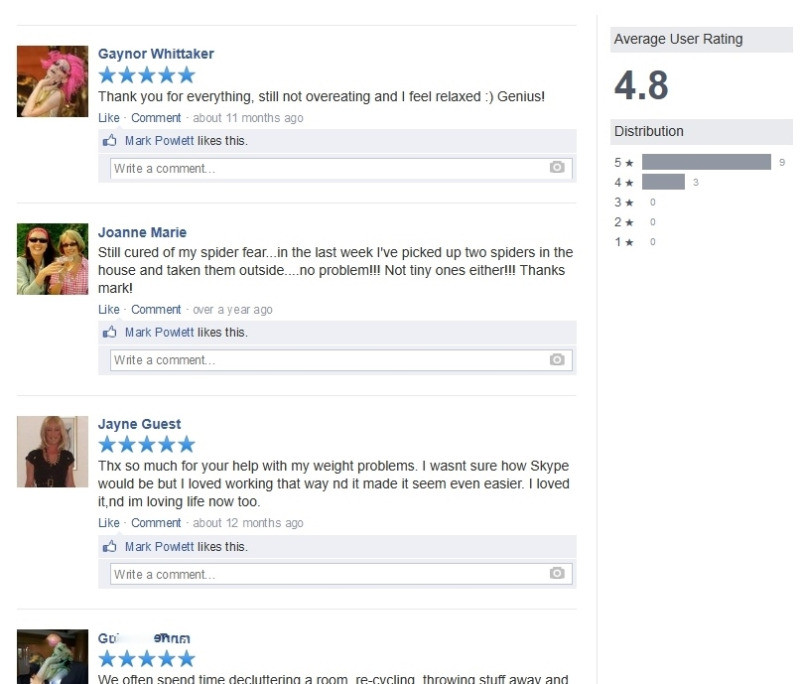 "Amazes me how I can actually be so relaxed. My nails are already obviously to me growing and the strengthening polish I normal put on but then pick off with my teeth is still completely intact for the first time ever. Nails looking great and some growing faster than others so can tap using my right index finger but can't wait until the others catch up!! Totally delighted" Sharon K
"I do believe I am becoming a changed person thanks to Mark Powlett" Dee Y
"Life is good I'm off to climb Kilimanjaro in September. Weight is coming off slowly as you recommended! Lost one and a half stone now. One stone left to lose . Work is busy. Stay happy" Jackie H
"Thank you for Everything, still not overeating and I feel Relaxed :) Genius!" Gaynor W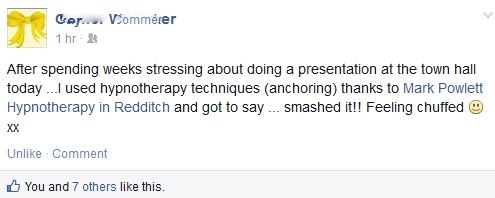 "Mark has helped my daughter with anxiety issues where other people were unable to. He is very personable and has been an amazing support." Victoria W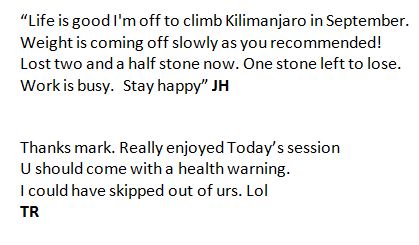 "Still cured of my spider fear...thanks Mark" Joanne M
"Thank you so much for helping me to understand why patches weren't working for me and helping me to quit smoking. I wanted to do it but I really wasn't sure how well it would work. I don't even crave them now and I'm already planning a weeekend away to spend the money i've saved. My girls are over the moon too that Daddy doesn't smell so bad." James W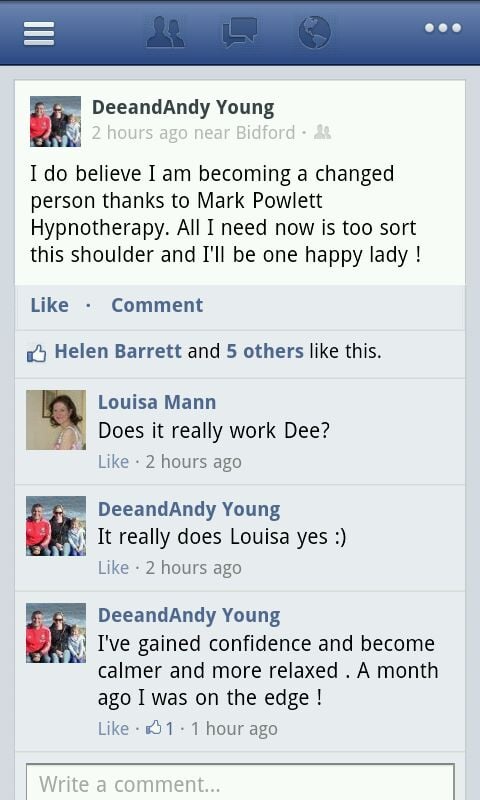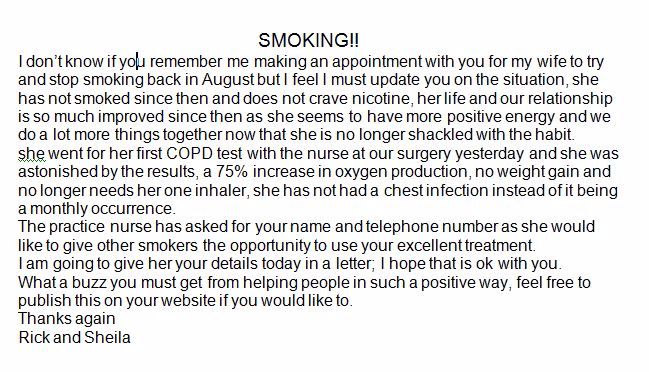 Of course you do not need to tell your story on social media. Everything we do is bound by confidentiality. The vast majority of my clients never feel the need to tell others about working with me...their family and friends just see a difference without needing to know how it happened.
You can call me in confidence on 07980 233160 or email me at [email protected]
Like reviews and ratings for hypnotherapy you can also find that BWRT Reviews and Testimonials show that often a real change can be made in a very short period of time.