You're Back in the Room Hypnosis show returns to ITV
Posted on
Hypnosis Gameshow comes back to ITV
Broadcast Magazine and the social media accounts of this year's ITV Hypnosis gameshow "You're Back in the Room" have confirmed that the show will be returning to ITV for a second series..answering the Question "When is Back in the Room coming back on TV?"
The magzine says....The Phillip Schofield-fronted show will return for another 4 x 60-minute run, which could air either later this year or in 2016. In each episode five contestants take on a series of games under the hypnosis of international mentalist Keith Barry. As the tasks get harder, their hypnotic triggers cause the contestants to unknowingly sabotage their chances of winning a cash prize.
The first series, which aired across March and April 2015, generated a consolidated audience of 4.7m (20.5%) over its four-part run in a Saturday night 8.30pm slot.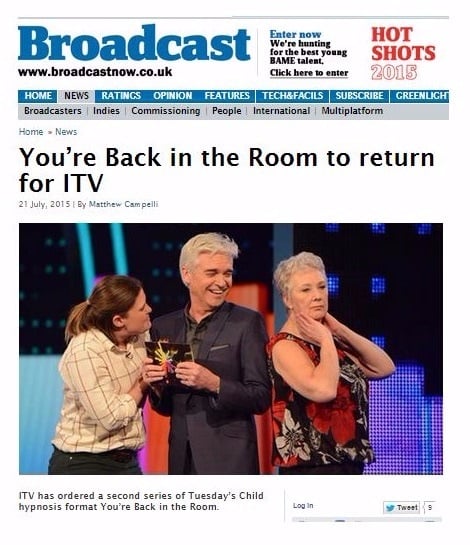 ITV director of entertainment and comedy Elaine Bedell ordered the second series alongside commissioning editor Claire Zolkwer. Tuesday's Child founder and chief executive Karen Smith is the executive producer. Zolkwer called You're Back in the Room "real talked about television that provided moments of genuine hilarity".
Smith added that the new series will provide "plenty more laugh-out-loud moments", adding: "I can't wait to meet our new contestants, who no doubt will be as unpredictable and entertaining as everyone from the first series."
When the show aired this year I was involved in interviews talking about the reality of how it all works. There is a huge difference between what you see in a hypnosis show and what happens in the Clinical Hypnotherapy that I practice. I spent a great deal of time explaining the differences. You can read some of the work that I did right here :
If you want to know the truth about hypnosis and what is really going on behind the scenes in the ITV hypnotist Gameshow then you can watch the following video...
Of course there is a huge amount of difference in what you see and what happens with hypnotherapy. Make no mistake this televsion programme is all about entertainment and getting ratings. So of course for this reason then all the controversy that surrounds it can only do the show good. I think it is fair to give people credit for understanding that what you see on TV isn't real...however if you want to read more then do take a look at this blog that I wrote after a quote of mine appeared in the Mail On Sunday newspaper with a headline saying: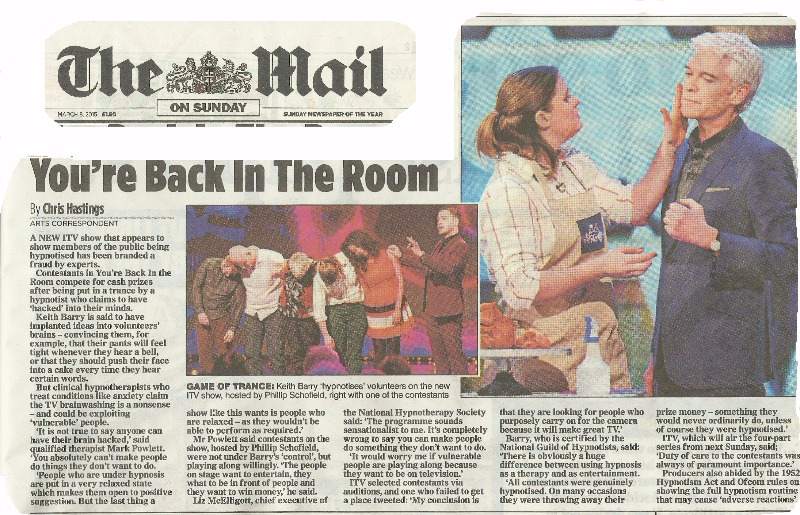 Are they really hypnotised on You're Back in the Room or just playing along: Here is the Blog and Video where I explain how it works....
http://www.markpowlett.co.uk/myblog/read_123451/are-they-really-hypnotised-on-youre-back-in-the-room.html