New Derren Brown Channel 4 TV show Pushed to the Edge
Posted on
New Derren Brown Channel 4 TV show Pushed to the Edge - will it hypnotise you?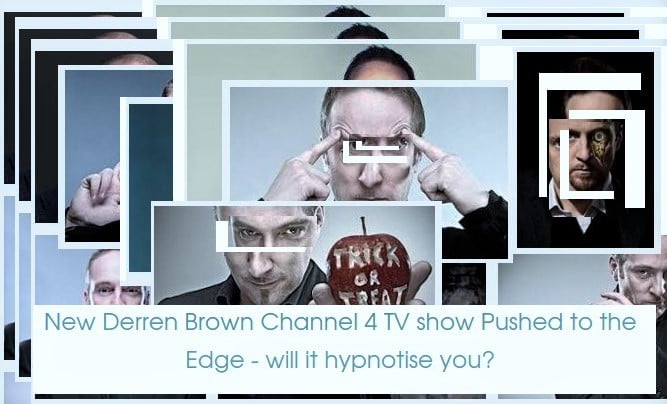 Social compliance is the thinking behind the new Derren Brown TV show

Whenever he appears on Television Derren Brown gets twitter and facebook talking. Is he hypnotising people? What is this NLP he says he uses? Is he really just a clever magician? How does he manipulate people into doing exactly what he wants. After all, this is the man who has persuaded someone to shoot Stephen Fry and hold up a security van stuffed with cash.
Well, after a break from TV Derren is back on Channel four on the 12th January at 9.00pm with his brand new show called "Pushed to the Edge"
He has been talking about what the show is all about and what we can look forward to seeing in this exciting new departure for him.
Of course, a good rule to apply to yourself is that if you want to be on a Derren Brown show, expect not to know you are on it until after it has finished!
Its often all about an "experiment" with the potential to scar a sensitive soul for life. In this one-off, 29-year-old Chris Kingston, co owner of a printing and design company, will be persuaded to – as far as he knows – commit murder, when he pushes someone off a roof...or will he? I think we already know the answer to that question.
All of this is achieved using the power of "social compliance" (authority, peer pressure and over 70 actors creating the situation). The setting is the gala launch of a fictitious charity called Push.
What does he say about this show?
Derren explained: "It looks at social compliance and social influence, which is something that can operate at all sorts of levels. It's particularly relevant with our political situation, with people being radicalised into doing bad things, but it can also operate on a private, quiet level socially. When we find ourselves in groups or with charismatic individuals, we might do things we wouldn't ordinarily do. This show takes the idea of social compliance and shows it at a very dramatic level. I'm very interested in how we take ownership of our own stories and our own lives. So this show is a dramatic play on that idea."
Can we manipulate people into behaving in a way that is against their own moral code?
This new TV show explores whether the mechanics of social compliance can be manipulated in order to persuade someone to do something that they would never normally do. In fact at one point we see somebody being told to push someone to their death off a building, and go through with it. The drama that Derren Brown is famous for look set to return here.
All of the participants are secretly filmed, in common with the way that he often creates his shows. Helping to create the situation the participants, (who have course have agreed to take part, but don't know if and when they will) meet a series of actors who help build and build the tense drama to its ultimate conclusion. The realism is added to with fake charity videos staring celebrities such as Matt Lucas, Martin Freeman andDavid Tennant.
"It's a good experience and positive says Brown"
As we have seen before the experience can be seen as a good thing once all is over.
Derren said: "The nature of the whole journey is done in a way to make sure that ultimately it's ultimately a positive thing for them. Within five minutes of the end happening, they were fine. Subjects, over the years and going back across quite a few shows, are always in a very positive place at the end of things. We aren't in the business of doing horrible things to people and then laughing at them. This certainly isn't about who's a bad person or a good person. We all have a strong moral sense. The point of this situation that we move them into is what happens when a clear discrepancy is created between what you know is right and what you feel you have to do. That's really what this is about."
You can read more about other Derren Brown shows and some of the secrets below (Do beware of spoilers though)
http://www.markpowlett.co.uk/myblog/read_64885/derren-brown-apocalypse-the-showman-at-work.html
http://www.markpowlett.co.uk/myblog/read_66540/Derren-Brown-Fear-and-Faith-How-does-he-do-it.html
Derren Brown: Pushed to the Edge is on Tuesday 12th January at 9pm on Channel 4.
Review of Push are already appearing and the verdict looks good.as The List say....
"He has no idea of the hell he is about to welcomed into when he attends a high-profile launch event for Push, a new youth charity. You'll watch through sweaty fingers as matters get utterly out of control for Chris and he is steadily nudged towards a moment of reckoning on the roof of a very high building.
But here's the really clever bit: all the while, the audience has been party to one man's manipulation yet once Chris' fate works itself out, Brown delivers a final cunning twist for the unsuspecting viewer."