How to stop being afraid of public speaking
Posted on
What can I do if I am afraid of speaking in Public?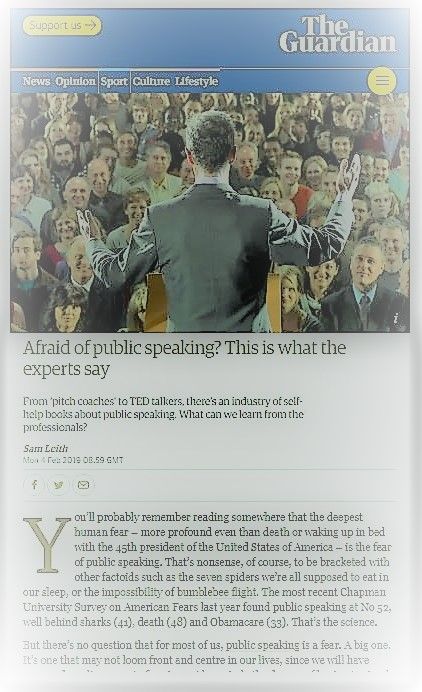 The Guardian recently published an interesting article all about the fear of public speaking with lots of really great links to help and advice. You can read the full Guardian article here if you want to take a deep dive into all the advice. Here's some of the ideas that I think can really help you to look at speaking to a crowd in presentations, or even for something like a wedding speech.
They make a really good point about how the most important thing is for a crowd to see that you are at ease. Nerves can be infectious, so if you look nervous the audience will pick up on that and become nervous too. It's not really the words that you are saying that is the most important thing. It is rather the way that you say them...
"as any public speaker knows, the business of presenting to a large audience is a confidence trick: that is, a speaker who seems to be at ease will put their audience at ease. A speaker with a look of sick terror and a tremor in his or her voice will communicate his or her own baleful vibes of unease to the audience, and enter a vicious circle. A bad joke put over with confidence will get a laugh. A good joke put over apologetically will die on its arse."

It is good to remember that in fact your audience are probably on your side! They want to enjoy what you are saying if it is a wedding speech, and if you are teaching them something they probably want to understand and learn something from you.
The article also reiterates one of the most important things...Know Your Audience!
"That old wine includes knowing your audience, seeking to project authenticity, using relatable narratives and humanising examples, and giving a speech a robust structure with a grabby opening and a memorable payoff. "
If you know who you are talking to then you can tailor what you are doing to help you as much as them. You don't need to get hung up on the ins and outs. Write some notes up, maybe just a few cue cards. The last thing you should do is read all your notes out. If you can't read it as well as a presenter on Cbeebies doing the bedtime story, then it just isn't a good way to work.
Be yourself, but.. "So often, people go to the podium and, for all sorts of reasons, pretend to be something they are not," says Simon Lancaster (author of Speechwriting: The Expert Guide). "People are wise to this bullshit. Just be yourself (which sounds easier than it really is)." That means being the best version of yourself. Speak with notes (advised) or without them if you're super-confident. But reading the entire speech from a sheet of paper kills the spontaneity ("Readers can't be leaders").

My background is in acting and presenting. I spent many years with a daily BBC Local Radio Show, so if you are looking for some more help you can visit me and learn more about how hypnotherapy and other techniques can mean you can let go of the nerves and really enjoy talking to people.
Once you learn that you can enjoy it you can find it's a really pleasurable thing to be able to do!
You can email me on