Is Netflix's Hypnotic fake hypnosis?
Posted on
Is Netflix's Hypnotic fake hypnosis?
Is the hypnosis in the Netflix movie Hypnotic real or fake?
Can you actually hypnotise someone in the same way as the Netflix film Hypnotic shows?
There is a history of films and TV showing hypnosis in a way that can create fear and misunderstanding. If you watch a film such as Now you see Me or even the sequel Now you see me 2 both of them show amazing feats where people just drop into a deep trance at the drop of a hat. The excellent thriller Get Out by Jordan Peele also showed how hypnosis could control a character and make him unable to control himself. But are these portrayals of hypnosis real? Is Hypnotherapy really like that?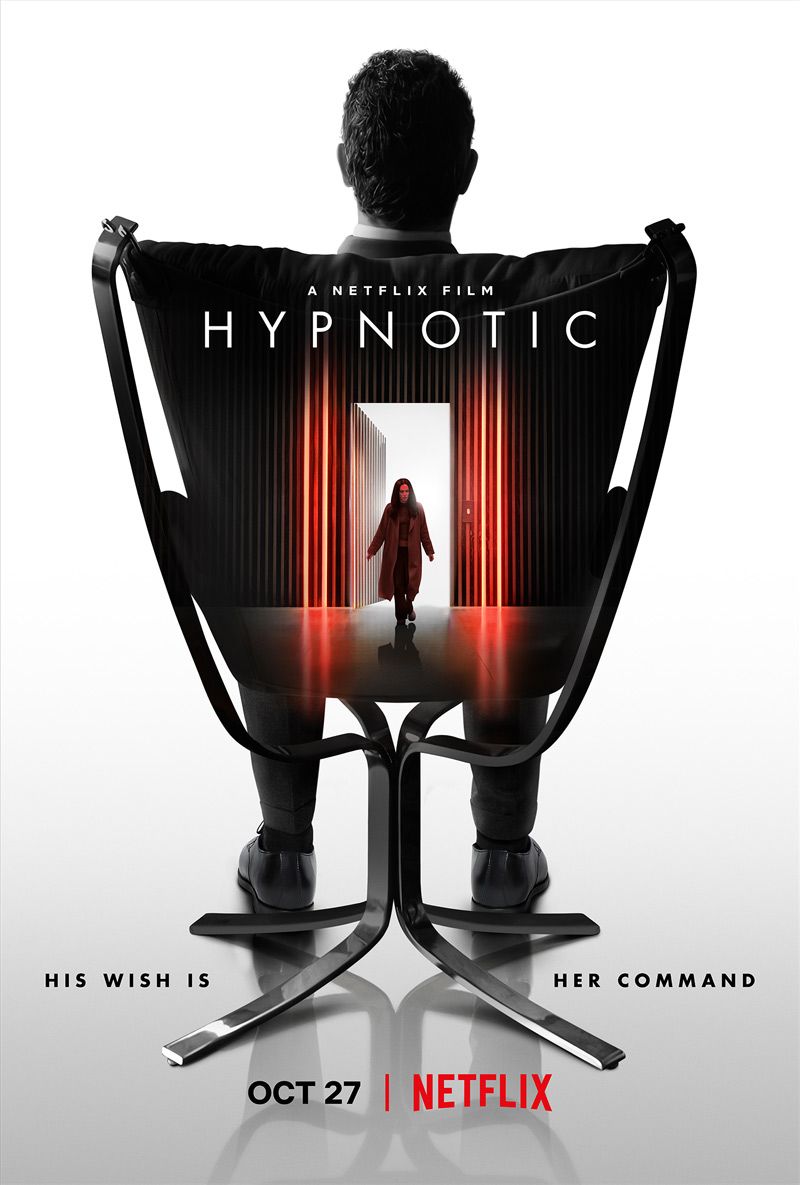 Hypnotic By Netflix the thriller where mind control takes place.
For a full review of Hypnotic on Netflix we will all have to see the movie which is released on October 27th. According to Netflix here's a synopsis of the plot...
Update: I have watched the Hypnotic Movie and here is a full review with Spoliers... Only read if you don't mind finding out what happens in the movie including the Ending..
Review of Netflix Hypnotic By Clinical Hypnotherapist.
"Feeling stuck both personally and professionally, Jenn (Kate Siegel), a young woman reeling from a series of traumatic events, enlists a renowned hypnotherapist, Dr. Meade (Jason O'Mara), to help on her road to recovery. After a handful of intense sessions, terrifying events, and mysterious blackouts, Jenn soon finds herself caught in a dangerous mind game. With the help of Detective Wade Rollins (Dulé Hill), Jen looks to put the pieces together before it's too late and there are deadly consequences. Hypnotic is co-directed by filmmakers Suzanne Coote & Matt Angel both writers & directors of the Netflix thriller The Open House previously. The screenplay is written by Richard D'Ovidio. Produced by Michael J. Luisi. Netflix will release Hypnotic streaming on Netflix starting October 27th, 2021. Ready to be hypnotized?"
An idea planted in the mind will blossom into a whole new reality." Netflix has revealed an official trailer for a psychological thriller titled Hypnotic, the latest from filmmakers Suzanne Coote & Matt Angel (of The Open House previously). This will be streaming on Netflix at the end of the month. A young woman seeking self-improvement enlists the help of a renowned hypnotherapist. But after a handful of intense sessions, she soon discovers unexpected and deadly consequences. She finds herself caught in a dangerous mind game, unsure who she can trust or how to regain control over her mind again. Kate Siegel stars in Hypnotic, with a cast including Jason O'Mara as Dr. Meade, Dulé Hill, Lucie Guest, and Jaime M. Callica.
So how does Hypnosis work and are any of these films realistic in the way that they portray the use of hypnotherapy?
Well. The short answer is NO! That's the quick version but of course it is more involved than that. If the people in these films could do the things that they do then life would probably be a little different for all of us.
The biggest thing that most films get wrong is simply the fact that Hypnosis can't make you do something that you would not do anyway. You can't get control of someone's mind. In hypnotherapy we are helping people to do things that they WANT to do. That probably makes sense to you.
If you would like to try a little something yourself and decide if hypnosis is real or fake then here's a quick youtube video... Can I hypnotise you in 30 seconds! Have a watch and see what you think about what the mind can do to change a physical aspect of your body...
I have written lots before about how Film and Tv show hypnosis in a way that isn't quite truthful.
You may remember a TV gameshow called "You're Back in the Room" This was a rehash of the type of stage show that many people are familiar with.
Keith Barry starred in the British and Australian incarnations of the show, and is also a consultant on the upcoming feature film "Now You See Me: The Second Act," which stars Jesse Eisenberg, Lizzy Caplan, Daniel Radcliffe and Mark Ruffalo. He taught Woody Harrelson to hypnotise people and also do magic tricks for the first film in the series.
In the American Version Taye Diggs hosted, although the show was not received well. So many people could see that rather than being hypnotised, people were just playing up for the cameras and for a chance to win money.
Stage Hypnosis versus Hypnotherapy to help people
There are some big differences in the perception of stage hypnosis between Great Britain and The United States. Here in the UK where I am based and a member of the National Council for Hypnotherapy, I and all other members of professional bodies are not allowed to practice stage hypnosis. There are a great many rules around using hypnosis in stage entertainment and even an act of parliament: The Hypnotism act of 1952 which governs the use of hypnosis in entertainment. Of course, there are in fact a great deal of medical studies into the efficacy of hypnosis in helping with things such as giving up smoking, losing weight, helping with fears and phobias, learning to deal with stress and anxiety and even pain control. What happens on stage is different! There are many differences, and not just the fact that in the UK we spell it hypnotised and in the US hypnotized!
In the US the profession of hypnotist can go hand in hand with stage hypnosis and many who practice hypnotherapy are also hypnotists on stage performing to crowds of students and at country fairs amongst other venues.
The attitude towards stage hypnosis differs greatly so the reaction to the show will be interesting to watch. The show has been widely panned across the world on social media and in the press for being fake. Part of the reason for this is because in stage hypnotism then there really is no need to actually hypnotise someone, it is all about compliance.
You can watch a short video below all about the secrets of Back in the Room: The way that compliance is used shows why the type of use that we see in Netflix Hypnotic Movie is far removed from real life.
Does any of this really matter?
Does it Matter if the movies and TV show hypnosis in a scary way?
Well, if you can tell the difference then I am all for some entertainment and laughter too. The only think to bear in mind is that after watching a film like Hypnotic on Netflix some people may choose not to get help using hypnotherapy because they are worried about mind control.
So, as I started this blog I want to end it... You can't make people do things that they do not want to do with hypnosis....but you can help them with things that they do want to do!
And now....why not take just a moment to try One Minute Mindfulness and see how using your mind to relax can be easier than you imagine...
Netflix Hypnotix Reviews...
Well, the movie has appeared on Netflix and the first reviews are in. Let's be honest, they are not good.
The Guardian say Hypnotic is a cheap, deeply silly film relying on too many people acting stupidly. They say that it will send you to sleep, mostly out of boredom.
"It's the kind of half-assed slop that has sadly come to dominate much of the streamer's original film content, slapdash TV movies made on the cheap and trucked out in mass for an audience who have now come to expect and accept such subterranean quality as the norm. A low budget does not, of course, have to mean low effort but it's hard to see where any of the energy is here, making it impossible to muster up any as one watches – a film about being put to sleep that sends us there too."
In fact most of the reviews focus on the fact that watching this film will send you to sleep. I suppose that is one of the problems when you make a film that purports to be about hypnosis. Also, its a problem when you make a boring film.
The SF chronicle says Hypnotic is like a columbo episode and a made for cable tv movie with a pedestian script.
Den of Geek says Hypnotic is another mediocre time killer. "Hypnotic mainly suffers from being a thriller sorely lacking in thrills. The film introduces "hypnotic suggestion" sequences where a character sees something, usually one of their phobias, that isn't there, but these dalliances into conventional horror are too few and far between. "
If you want to read more reviews about Hypnotic Roger Ebert said "This slick and cheesy Netflix movie only occasionally rises to the potential of its wild premise, thanks mostly to a crazy-eyed, licking-his-chops performance from Jason O'Mara."
The New York Times says of Hypnotic... The twists in "Hypnotic" may not be brilliant, but they are abundant, making for the sort of straight-to-streaming treat best enjoyed on a couch, with company who will laugh with you and let you yell at the screen."