Redditch Mom hypnotised for public speaking success
Posted on
I love being able to see articles in the press that show how effective hypnosis and hypnotherapy is. I especially love it if they are articles which I feature in !
I recently worked with Victoria Warwick-Jones to help her with her nerves and fears about speaking at The Vibrant Conference which took place in Bromsgrove.
Here is the article that was published in the Redditch Standard and then picked up by many other outlets too.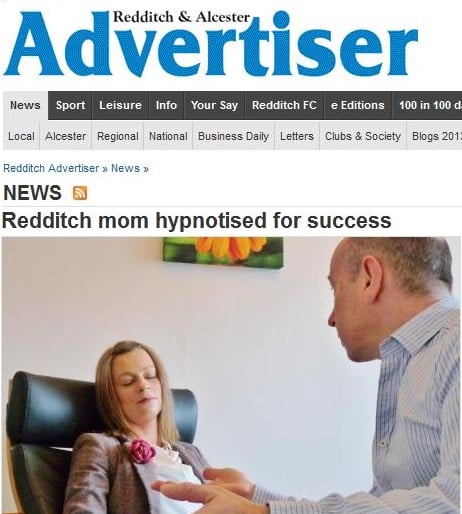 A FORMER beauty therapist has overcome her fears and fulfilled a lifelong dream of telling her story in front of more than 200 people - with the help of hypnotherapy.
Victoria Warwick-Jones, who now runs a networking group in Redditch, was invited to speak at the Vibrant Conference in Bromsgrove alongside professional speakers about her life.
Overcome with nerves at the prospect the mother of two decided to turn to a hypnotherapist for help.
She said that she had one of the most rewarding experiences of her life.
"I never imagined being able to have the courage to stand up and speak to an audience of 200 business people, especially as I was alongside motivational speakers who do this sort of thing every day," said Ms Warwick-Jones.
"I started working in the networking group a few months ago and a year ago I did not even have the courage to talk in front of a handful of people. Being a mum has always been the most important thing to me and I didn't think mums stood up in front of crowds."
Ms Warwick-Jones worked with clinical hypnotherapist Mark Powlett, who has a practice in Winyates Green.
She was told to visualise how she wanted to feel and draw on calm experiences so that on the day she could stand up with no nerves at all.
she said: "I was actually so calm on the day that I was surprised to find people coming up to me to tell me that I was their favourite speaker of the day - it felt amazing."
Mr Powlett was also at the recent event to encourage her.
The hypnotherapist said: "I have seen some amazing changes in Victoria and I felt very proud when she stood up to speak. I watched her show so much confidence that she shone out brighter than the professional speakers.
"People think that hypnotherapy is just about weight loss and helping people to give up smoking but I spend more time working with clients to help them with stress, anxiety and to build confidence than anything else."
Ms Warwick-Jones is now looking forward to taking on more public speaking.