You're Back in the room on Fox – Real or Fake?
Posted on
You're Back in the Room – Real or Fake?
It's the hypnosis game show that started in Great Britain hosted by TV legend Phil Schofield and with Hypnotist Keith Barry using his mind power skills to hypnotize selected participants to try and stop them winning money by sabotaging their own efforts due to the effects of hypnosis.
But are they really hypnotized on Back in the Room with Taye Diggs?
The format moved to France and then to Australia hosted by Daryl Somers where it received a critical mauling much like its reception in the UK. The format has been sold to countries such as the Netherlands, Columbia and Slovenia, but now it is set to take the biggest leap yet as it moves to American television.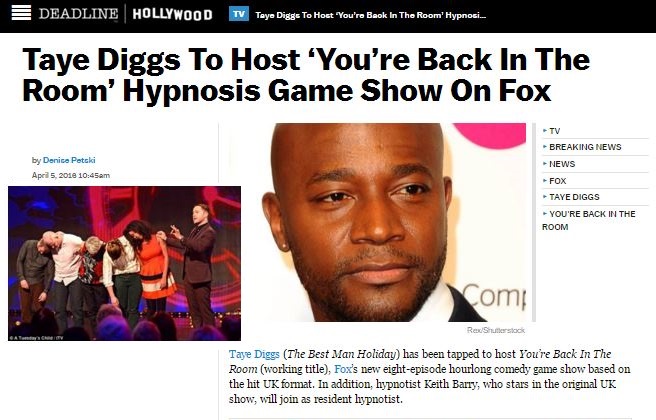 The new hypnosis gameshow hosted by Taye Diggs
Taye Diggs is most well known for "The Best Man Holiday", and "Murder in the First". His hosting duties mean that he will tie together all of the antics whilst hypnotist Keith Barry will be performing the role of stage hypnotists as he did in the UK and in Australia. His appointment as host was first reported in Deadline Hollywood.
"The second I saw this show I knew I needed to be a part of it. It's the most unique blend of comedy and competition I've seen in years," said Diggs. "I'm also quite excited as this is a program I can watch and laugh at with my six-year-old son." Based on the smash-hit U.K. format of the same
In all there will be a longer run of the programme as Fox have ordered a series of eight shows, all to use the talents of Keith Barry as in the UK and Australia. Production has already begun on the show and this led to Keith Barry cancelling his UK tour, which had been rescheduled from late 2015. Keith Barry is also the man behind the film "Now you See it 2" when it comes to helping people with magic tricks on the show. He is known as a mentalist and hypnotist so his skills as a performer are not in doubt. Taye Diggs is in for some interesting action by being right at the heart of the performance.
Programme credits and production
"You're Back In The Room," produced by Tuesday's Child, debuted in the U.K. as the No. 1 new unscripted entertainment series in 2015, ending its first season as a Top 10 series overall. The series is currently airing its second season and the format has been produced in France, The Netherlands and Australia and optioned internationally in multiple territories, including Belgium, Brazil, Chile, Columbia, Denmark, Germany, Italy, New Zealand, Norway, Peru, Portugal and Spain.
Keith Barry starred in the British and Australian incarnations of the show, and is also a consultant on the upcoming feature film "Now You See Me: The Second Act," which stars Jesse Eisenberg, Lizzy Caplan, Daniel Radcliffe and Mark Ruffalo. He taught Woody Harrelson to hypnotise people and also do magic tricks for the first film in the series.
YOU'RE BACK IN THE ROOM (wt) is executive-produced by Tuesday's Child in association with BBC Worldwide Productions. Karen Smith and Joe Sungkur serve as executive producers.
The Big Question: Is Back in the Room real or Fake?
There are some big differences in the perception of stage hypnosis between Great Britain and The United States. Here in the UK where I am based and a member of the National Council for Hypnotherapy, I and all other members of professional bodies are not allowed to practice stage hypnosis. There are a great many rules around using hypnosis in stage entertainment and even an act of parliament: The Hypnotism act of 1952 which governs the use of hypnosis in entertainment. Of course, there are in fact a great deal of medical studies into the efficacy of hypnosis in helping with things such as giving up smoking, losing weight, helping with fears and phobias, learning to deal with stress and anxiety and even pain control. What happens on stage is different! There are many differences, and not just the fact that in the UK we spell it hypnotised and in the US hypnotized!
In the US the profession of hypnotist can go hand in hand with stage hypnosis and many who practice hypnotherapy are also hypnotists on stage performing to crowds of students and at country fairs amongst other venues.
The attitude towards stage hypnosis differs greatly so the reaction to the show will be interesting to watch. The show has been widely panned across the world on social media and in the press for being fake. Part of the reason for this is because in stage hypnotism then there really is no need to actually hypnotise someone, it is all about compliance.
You can watch a short video below all about the secrets of Back in the Room:
Are they actors on Back in the Room?
One of the big questions about back in the room wonders if they are using actors to fake hypnosis. The producers strongly deny this and of course, they do not need to use actors. They need to find people who will play along with all of the tasks. There are at least three auditions for the show before the contestants are chosen and what they say they are looking for is people who are susceptible. Of course, I don't deny that Keith Barry the Hypnotist is able to use hypnosis, it's simply that by the stage they are ready to film the show, there is no need to hypnotise them anymore, they are more than ready to play along, because they want the excitement of being famous for fifteen minutes, just like Andy Warhol predicted.
Here's another video that looks into the secrets of stage hypnosis:
Why do they fall asleep so easily when Keith Barry says "Sleeeep!".
Good question?! Perhaps it's simply because that's what they are expected to do?! We have all seen it happen on stage or television and so when he says it, imagine how hard it would be NOT to drop your head and close your eyes when everyone else did. Would you feel a little self conscious?
The show does hard back to good old fashioned days on entertainment with rounds including cake making that echo the famous Lucille Ball episode in "I Love Lucy" which is one of the most memorable episodes of TV ever, so it will be interested to look at the difference between the reception in the US and that of the rest of the world.
Can I hypnotise you Right now?
Perhaps you are wondering if you are susceptible to hypnosis. Well, you don't need to have your eyes closed to see the power of your mind. You can watch another clip here where I can show you how you can use the power of your mind and the good old hypnotists watch to demonstrate a real physical change.
Remember, you can enjoy the show and also be aware the hypnotherapy can help you in many ways too. I work using Skype Hypnotherapy across the world, and this means that I can reach more and more people than I could just in my practice in Great Britain alone.
You can contact me on [email protected] if you would like help with anything that bothers you.
You can also watch many more videos on my youtube channel: https://www.youtube.com/channel/UCg8OgoQcKxoo8OGyOTwEjHA
You can find me on Facebook here: https://www.facebook.com/markpowletthypnotherapy
and on Twitter for more here: https://twitter.com/Markonair
Who is Keith Barry the Hypnotist on Back in the Room?
Keith Barry is known as a mentalist and magician as well as a world famous hypnotist.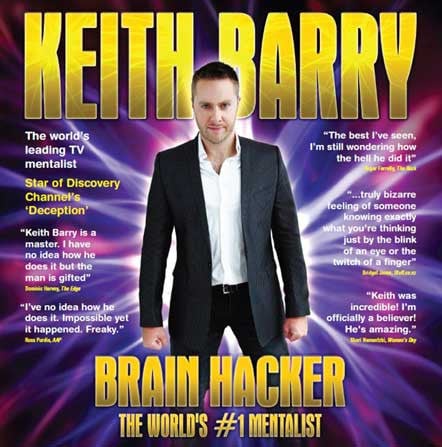 Keith Barry has appeared on MTV and had his own specials "Brain Hacker" and "Deception with Keith Barry" on cable tv channels as well. He also had an ITV show before called Keith Barry - The escape. Now working with Philip Schofield on You're back in the Room is a dream come true for him as he has been on the hunt for a primetime show for a while. He has hosted the Irish version of the show Deal or No Deal as well. He has recently been working on the film Now you See Me:The Second Act helping to teach Mark Ruffalo magic tricks.Until Back in the Room his magic tricks and shows helped his profile but since the show started his fame has begun to grow and grow.
As a Clinical Hypnotherapist what I do is very different from what a Hypnotist does. I work with my clients to help them learn to relax and let go, but in actul fact any performer on the stage who wants a good hypnotic show is looking for someone who is far from relaxed, but very open to suggestion. Those suggestions are often actued upon because of the pressure of the audience watching rather than through being hypnotised. In fact if you were to watch the people who were really hypnotised in a hypnosis show they would be the ones who were sat relaxed with their eyes close and not the ones dancing about like fools. When you say you were hypnotised in a hypnotic show what you are really saying is that you were given permission to do what seem like silly things because you can blame it on being hypnotised!
2017 Update: Since starting out in the UK the show has been sold worldwide. Adding to the USA, France and others in March 2017 Quebecor Content in Canada and Markiza TV in Slovakia have picked up the hypnotism format from BBC Worldwide.