Is Mesmerised a fake hypnosis show?
Posted on
Is Peter Powers really hypnotising people on Mesmerised?
Another new TV show starts this week that uses hypnosis for entertainment. In the UK we have had "Back in the Room" which will return for a new series next year and has also aired around the world, including France where a new version has just begun.
Are they faking it on Mesmerised?
This time the show appears on Australian Television on Channel 7 Starting on October 22nd and is called "Mesmerised" The star and hypnotist of this show is British Born Peter Powers who has been living and working don under for many years.
When interviewed by the Sydney Morning Herald to promote the show he was asked if he was at all worried that the contestants on his tv show might feel humiliated.
"They know it's a comedy. People who volunteer know what it will entail, but not specifically the routine, because the way hypnosis works, if the person knows in advance what is required of them, you will not get the subconsciously driven hypnotic response. I've been doing the stage shows for 31 years, and I've had no complaints from people saying, 'I didn't know you were going to make me squawk like a chicken or behave like a belly dancer'. I say to them in advance that their imagination can be played with, so I can make something appear that isn't really there, or I can make something disappear that is really there, I can change your mood, I can make you ecstatic, I can make you think somebody has a really bad smell if they sit next to you.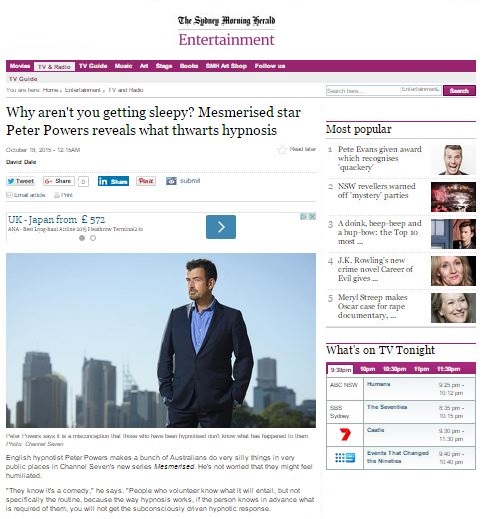 But the assurance I could give them for this series, because this is Channel Seven, prime time, is you will not behave in any way that is sexual in nature, you will not be removing your clothes, you won't be swearing, this is a family show where people can watch with their children. There's no way we're going to expose people to something they find humiliating or that they'll never live down with their families.
Can they remember what happened when they come round?
Is Mesmerised a fake hypnosis show?
It's interesting that when the British show Back in the Room aired with Phil Schofield presenting and Hypnotist Keith Barry working with his volounteers he made a big deal about the fact they would not remember what happened to them when they "woke up" this is in fact far from reality. When asked the same question by the SMH Peter Powers gave a much more honest response..
"They don't forget, by the way. When you've finished filming, it's not as if they think, 'I've just come round, I've got no idea what just happened'. That's a misconception. The people who've been involved in a certain routine, they know about it."
You can read more about myths about hypnosis and see how you could hypnotise yourself with any pocket watch or even a swinging chain in this video...
Mesmerised airs on Thursday, October 22, at 8pm on Channel Seven in Australia.
Update from 22nd October..
Mesmerised the Hypnosis TV show fails to hypnotise the audience.
The latest news about this TV show is that it has been put to sleep after just one episode aired.
The second episode of Mesmerised, was to have aired on Thursday but the Seven Network has replaced it with yet another animal-based series called Dog Patrol, a documentary series about canine support teams who help the police fight crime.
Peter Powers may be well known in Australia for his stage shows featuring hypnosis but unfortunately his skills didn't convert into TV ratings.
The ratings showed that in fact the launch episode which aired on October 15 attracted just 411,000 viewers and was 22nd overall on OzTAM's overnight five-city metro ratings.
A Seven Network Television spokeswoman says Mesmerised is yet to be rescheduled.