Hypnotist thief robs shopkeeper although he doesnt really hypnotise his victim
Posted on
It's one of those stories that takes hold and gets people talking. After an item on Crimewatch showed a shopkeeper being robbed it is now all over twitter and facebook as they explain that the shopkeeper was robbed after being hypnotised. But was he really ? Derren Brown may have been able to do this on TV but he wouldn't do it in this way. As a Clinical Hypnotherapist, perhaps I can shed some light on what is going on here...

Because there is video with this story it appeals to all the online news outlets because people love being able to watch a short clip rather than have to read something. The interesting thing about this is that when the story was reported on Crimewatch he was a pickpocket and now he is supposed to be a hypnotist.
"Experts say" is the quote that is being used and yet strange to say no names of experts have emerged. There is a simple reason for this. It's been made up by lazy journalists looking for an angle to get people to click on their website for the story, or did they get the idea from somewhere else? It didn't come from the police we do know that...

Let's see what the story says...
According to The Guardian:
'Hypnotist thief' robs shopkeeper after appearing to put him in a trance
Man seen removing bundle of cash from London man's pocket after touching him repeatedly on stomach.
Hypnotist thief puts shopkeeper into a trance before robbing him
At least Sky news had a little more sense...
'Distraction Thief' Caught On Shop's CCTV
The shopkeeper said it was like he had been hypnotised as a man rifled through his pockets to steal hundreds of pounds.
So this is where the story starts to unravel... the shopkeeper said he was hypnotised! Bingo!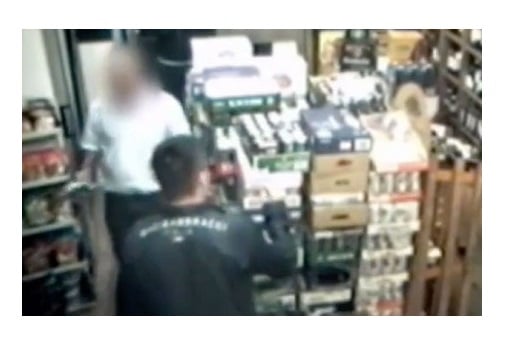 Take a look at the picture... it shows that he put his hand up and this meant that the shopkeeper was hypnotised because he didn't move! Surely that's how we all have conversations with people? I stand still rather than run away when I am talking to someone, don't you?
Here's more on the reporting of that story...
A thief was able to rifle through the trouser pockets of a shopkeeper to steal the day's takings after distracting him with a story about his pregnant wife.
Aftab "Aziz" Haider, the owner of wine merchants Hops And Pops in Highgate, North London, said he was "stunned" by the theft of hundreds of pounds.
CCTV of the unusual robbery shows the suspect brushing past Mr Haider and tapping him on the arm.
Moments later, the suspect shakes his hand at eye level before taking the shopkeeper's wallet out of his pocket.
The thief, talking all the time, then taps Mr Haider's shoulders and torso and makes a series of bizarre hand gestures before reaching into the other pocket to steal the day's takings.
Mr Haider tries to stop the man, but he had already run out of the shop.
It was earlier reported that he might have been hypnotised, but Mr Haider it was only like he had been placed in a trance as the man told him an elaborate tale in broken English.
Scotland Yard has released the CCTV of the theft which took less than a minute at around 9.45pm on 11 September.
Detective Sergeant Dave Bullock of the Met Police said: "The victim in this incident said that he was momentarily unaware of what had happened to him.
"The suspect's distraction tactics appeared to have worked as he robbed the victim of cash from his pocket. If anyone recognises the suspect or has been a victim in similar circumstances, please contact us."
The suspect was wearing a black bomber jacket and dark jeans. Police have described him as being between 30 and 35 years old, Eastern European and slim with short black hair.
Here's the video of the shopkeeper being robbed by a hypnotist criminal!
I understand that he may say that because of course being robbed is an embarrassing thing, especially when it is on CCTV.
Who are the experts who think he was hypnotised? How laughable. No one is naming anyone here of course. In fact the police day nothing about hypnosis for crime being part of this at all.
He is being pickpocketed by a man who is just distracting him by asking about a pregnant wife. I don't know about you but I often stand still when someone is talking to me rather than dance around the room. You've seen too much Derren Brown if you think this is anything other than a shopkeeper who got robbed and is embarrassed to admit that he didn't realise what had happened....oh hang on a minute...no one on Crimewatch even suggested he was hypnotised so perhaps this is just the angle made up to make the story more interesting.
It's a simple distraction crime and the media have seized upon it because it makes good copy.Let's hope the man is found before he can distract other people and rob them too!

Rest assured that you will be able to go about your daily life without this happening to you!
Hypnosis is just being relaxed. If you want to experience a few minutes of letting go then you can listen to my Hypnosis relaxation MP3 HERE and see how it doesn't take control of your mind at all !