Transform Your Health Business by Paul Baker Review
Posted on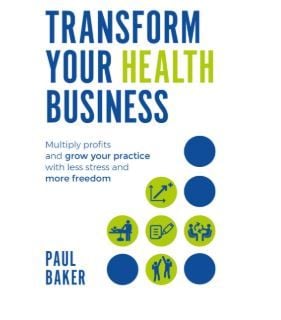 As a Therapist who has been practicing for a fair few years I still enjoy reading books that can help me with my practice so when the new book by Paul Baker.. Transform Your Health Business arrived I was eager to take a look.
Review of Transform Your Health Business by Paul Baker
Transform Your Health Business outlines the simple five-step Practice with Profit Way to build your therapy business into a profitable practice. Packed with insights from an expert therapist and health business owner, who has spent over 24 years and 30,000 hours in face-to-face consultations, you'll learn how to command premium prices, enjoy higher margins and develop the systems to deliver exceptional value to your ideal customers.

Read this book and discover the five essential elements of a successful health business

- Culture: Maximise the number of employed therapists and the time they spend in billable consultations
- Connect: Build valuable relationships with A-star self-funding patients
- Convert: Discover a stress free sales system that provides high value solutions and healthy profits
- Consult: Provide membership services to increase loyalty and enjoy a recurring-revenue income stream
- Consistent: Maximise revenues, profit and growth with a motivated and high performing therapy team

If you want to build a highly motivated and productive therapy team, multiply your revenue, increase profit and accelerate growth with less stress and more freedom, you need to read this book.
A full review will appear here soon.
About Paul Baker..
In 2001, at age twenty-six, Paul opened his first health business, goPhysio Ltd. He has since spent over 30,000 hours in face-to-face consultations, guiding and coaching patients to recovery.

His passion is combining clinical mastery with commercial acumen, building profitable practices around valuable relationships with self-funding patients, and guiding them to long-term health transformations. He coaches and mentors his team in improving their interpersonal (relationship and communication), sales and commercial skills to repeat his successes from inside the consultation room and build profitable health businesses.

Since he developed his methodology into the Practice with Profit Way, he and his team have built goPhysio into a profitable practice that employs 13 full-time team members. Self-funding patients make up 97% of the customer base and over 200 are in recurring revenue membership services.

Following this success, Paul has written this book and founded the Practice with Profit health business accelerator programme. This book will outline the methods to help you build a profitable practice, positioned at the top end of your market. As a health-business leader, by using the Practice with Profit Way, you'll become clear on how to succeed in your primary role of converting your assets into revenue, while minimising expense.

The purpose is to equip like-minded health-business leaders and therapists with the training and tools to transform their businesses - multiplying their profits and growing their practices with minimum stress and maximum freedom.

You'll be able to start implementing these strategies and grow your health business around retaining and gaining A-star self-funding patients, maximising your profit and growth. When your therapists are doing a great job, your patients will have great outcomes. Healthy patients equal a healthy, profitable business.