How to appear on a Derren Brown TV Show
Posted on
Magician, Mentalist, Hypnotist entertainer and the man who has just opened his own theme park ride Derren Brown is just about to finish his latest tour.
So What is Next for Derren?
His show Miracle has toured the UK for many months and finishes in Blackpool at the Blackpool Opera House. His Theme Park Ride "Ghost Train" has now opened at the Merlin Entertainments Theme Park Thorpe Park so you may think that perhaps he is due a little bit of a break. But, taking to Twitter Derren is in fact on the prowl for people for another new Television Special.
He Tweeted "Right. New TV thing. Fancy setting someone up? Email [email protected]"
This is quite interesting in itself. Normally his shows take people who have applied themselves. This means that often they go through a round of auditions and then generally they are not told what will happen next. At some point they are drawn into whatever the theme of the show is, without knowing they are part of it. Of course, they may have the idea at the back of their mind that anything strange could be to do with Mr Brown and his tricks.
This time though, it could be someone who is not aware they are up for taking part in a new show. It seems to be a new dimension and one that could well be very interesting and even more controversial that normal.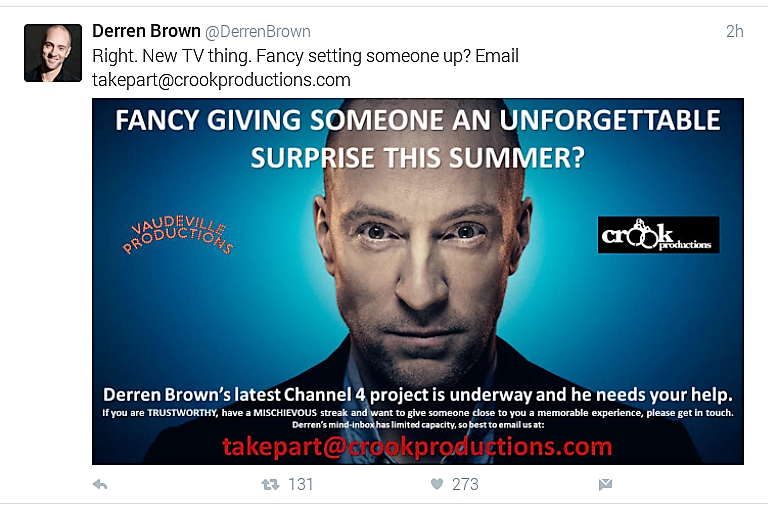 Fancy Giving Someone An Unforgettable Surprise This Summer?
Vaudeville Productions and Crook Productions are looking for people.
Derren Brown's latest Channel 4 Project is underway and he needs your help.
If you are TRUSTWORTHY, have a MISCHIEVOUS streak and want to give someone close to you a memorable experience, please get in touch.
Derren's mind-inbox has limited capacity, so best to email us at: [email protected]
It's always very hard to guess what he will get up to next, but I would say that the signs may well point to someone having a rather more relaxing and positive experience than during his last show "Pushed to the Edge" where he persuaded people to throw other people from the top of tall buildings.