You're Back In The Room won't be coming back into our living rooms
Posted on
ITV have decided not renew the Phil Schofield and Keith Barry hypnosis game show You're Back In The Room after two series citing the reason to be a fall in its ratings and also a lack of interest from potential celebrity guests.
Despite going on to appear in different formats around the world, including a version filmed for FOX TV in the USA called "Hypnotize ME", the show has seen ratings plummet in the UK. The show originally premiered to impressive ratings, with more than four million people tuning in. However, the second series proved less successful.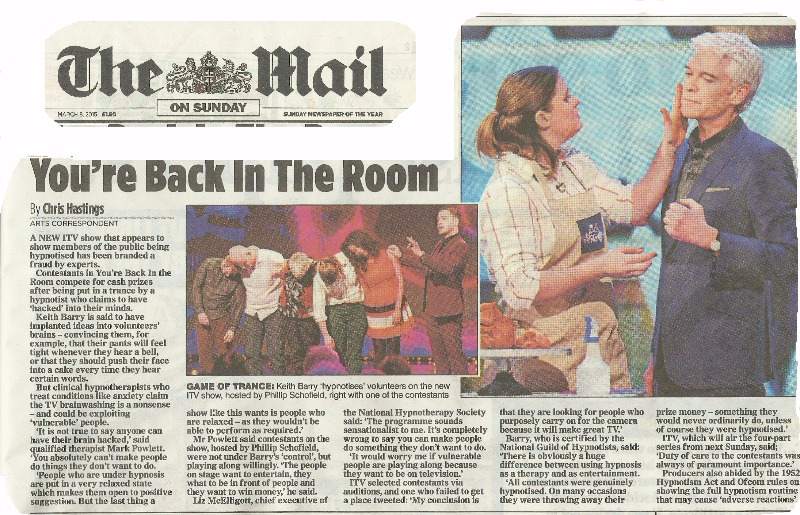 ITV have also claimed that they struggled to persuade celebrity guests to appear on the show. It's interesting that they say this, because you may imagine that some "celebrities" would appear on any program going.

According to The Sun an insider said... "The show got mixed reviews but not bad ratings at first but ultimately the balance between great names and keen people couldn't keep going. They only really managed to twist the arms of ITV stars onto the show - with the likes of Joey Essex, the Loose Women ladies and the cast of Coronation Street all making an appearance."

The unnamed person did however claim that ITV were more than happy with the efforts that host Phil Schofield made.

"ITV thought Phillip did a brilliant job as host. His commentary was hilarious and he loved doing the show but he's got some new formats coming up for the channel and sadly something had to make way."

Throughout its run the show faced a great deal of criticism because it gave a very unrealistic view about what hypnosis actually is and how it can be used to help people overcome problems and issues.

You can watch the video where I talk about Back in the Room being fake below and judge for yourself whether the contestants were just faking it all along...