X Factor Winner Matt Cardle uses Hypnosis to Quit Smoking
Posted on
X Factor Winner Matt Cardle is the latest celebrity to turn to hypnotherapy.
He has recently quit smoking to help him get in shape for his West End debut in hit musical Memphis.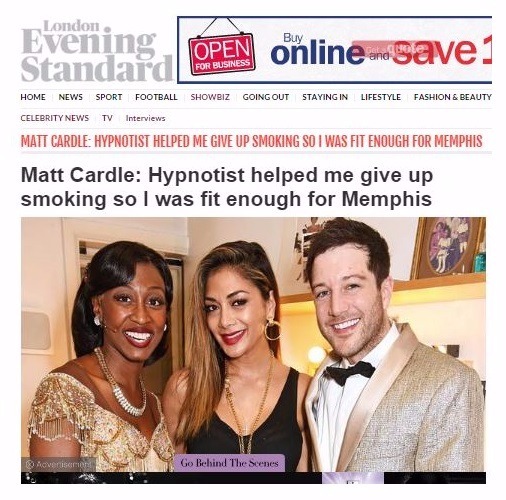 Back in when he became the X Factor winner, could Matt have imagined that he would win a standing ovation at a gala press night at the Shaftesbury Theatre, where he is playing the lead role of Huey, a DJ who defies segregation in the American South to promote black music? The show also stars Beverley Knight, who plays aspiring singer Felicia.
Speaking to the London Standard Matt Cardle explained that getting ready for the show was the hardest experience of his life:
"I'm not unfit, but I could be fitter. Bev said, 'You're going to have to get fit and stop smoking'. That's the first thing she said, 'You've got to quit the fags or you won't make it'. And I was like, 'Really?' And I now know there is no way on God's green earth I could have done it if I still smoked.
"I was smoking 30 a day. I'm all right now — I went to see a hypnotist in Harley Street. I won't go back to smoking. That's me done."
It's great to hear what so many people who have used hypnosis to help them quit smoking for good say. Once you make that choice to finally stop smoking cigarettes for life then it can even be hard to see why you smoked them in the first place.