The Tapestry of touch - Pompoms and Sense the deafblind charity
Posted on
One of the great things about what I do is that I am able to become involved with various charity events and lend a hand to do what I can. (Who can forget how much I went on about winning the Strictly Come Dancing event for the Shakespeare Hospice!?)
Recently I went to see the Grayson Perry exhibition "The Vanity of Small Differences" at the Birmingham Gallery and Art museum and little did I know that soon afterwards I would be visiting another tapestry...this time one made by thousands of people...
Sense are a national charity that supports and campaigns for children and adults who are deafblind. As a hypnotherapist who works with people using their senses in a very different way the work they do is of course something that I personally can learn from. How we use our senses is something that I work on every day.
I was delighted when I was asked by Kate Timperley, the ambassador relationship manager for sense, if I would like to attend and open an amazing tapestry of pompoms. Of course, I jumped at the chance.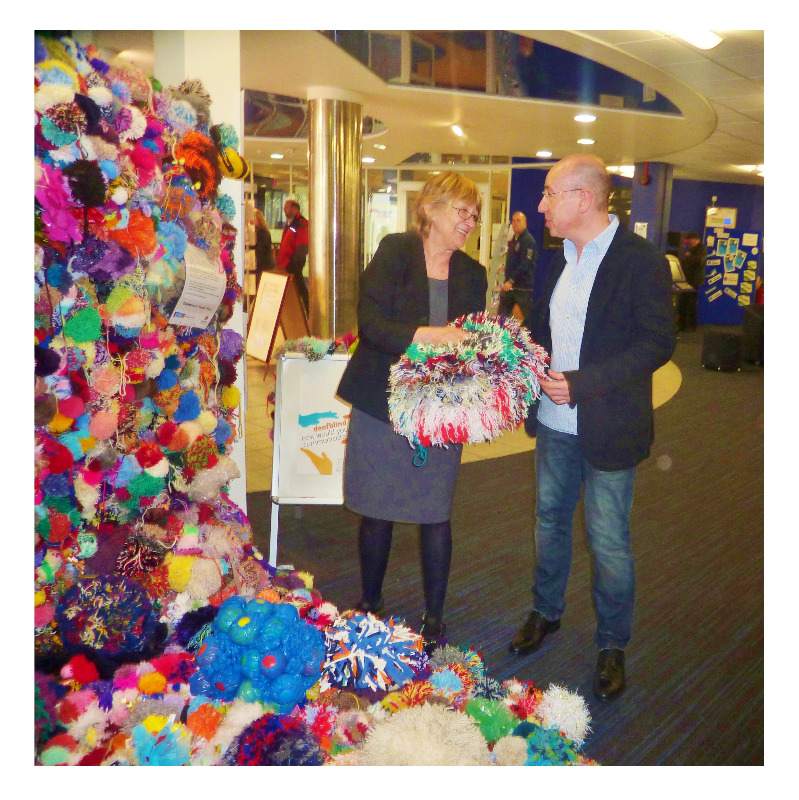 Gillian Morbey and I feeling the tapestry for ourselves

The Great Sense Pompom Challenge
The Great Sense Pompom Challenge took place at the end of 2013. Thousands of artists with and without multi-sensory impairments contributed to the tapestry from all over the UK, and it is travelling the country to raise awareness of multi-sensory impairments and of Sense. Over 6000 pompoms were made and then stitched together to create a huge piece of sensory art "The Tapestry of Touch".

For people with hearing and sight impairment, touch can be important. It helps with communication – many deafblind people use a form of sign language involving touch called hand-on-hand signing, or they may use their fingers to read Braille. It helps with connecting – feeling the touch of their friends and loved ones becomes significant when you can't see or hear. It helps with learning – especially important for babies and children with sight and hearing problems.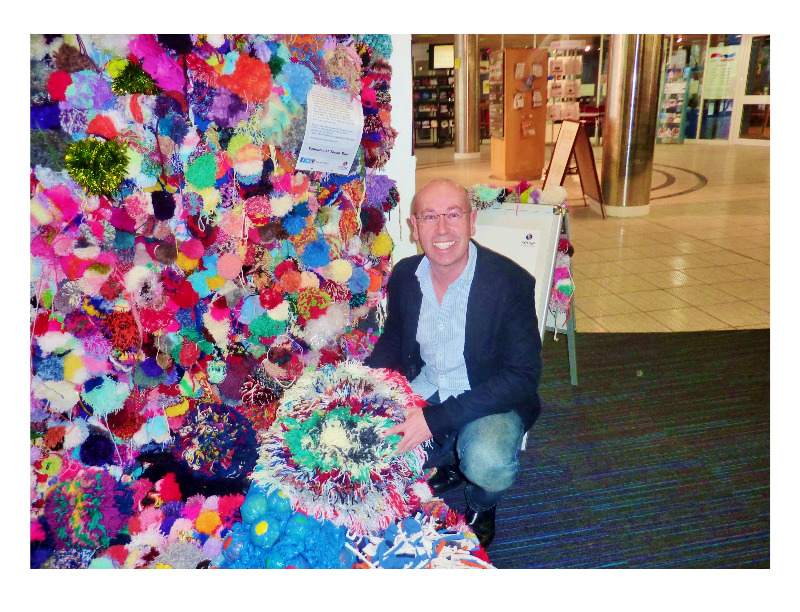 The tapestry is now travelling around the country and you can see it for yourself. I was delighted to open the exhibition when it arrived at the Solihull Arts Complex. This is a venue I know well having performed there myself many times, and I even got to meet up with theatre manager Lawrence and reminisce.
I met with Kate herself and I was also really happy to be able to meet the Chief Executive Gillian Morbey and find out more about the tapestry and what Sense do.
This is not a piece of art with a barrier around it and "Do not touch!" signs. This is the exact opposite. It is something created by real people and it screams out to be touched, and played with. There are pompoms made out of wool, and many other materials, even plastic! Some are small and some are large. It really is stimulating to be able to close your eyes and touch these for yourself.
If you would like to see the tapestry for yourself then you can find out all about where it has been, where it is going and where it will end up right here...
http://www.sense.org.uk/tapestryoftouch

and here you can read about the Solihull exhibition and my involvement..
http://www.sense.org.uk/content/tapestry-touch-exhibition-opens-solihull-week
I wonder if you could take a moment out of your day to read more about Sense and what they do.