Phil Schofield to host new hypnosis gameshow on ITV with Keith Barry
Posted on
Philip Schofield will be hosting a brand new hypnosis gameshow on ITV called "You're Back in the Room" with mentalist Keith Barry in 2015.
The broadcaster has commissioned "You're Back in the Room", which it teases as having a "unique twist". I expect that unique twist will be to trivialise the wonderful work that clinical hypnotherapists do to help people deal with issues that are dominating their lives. I'm laughing as I type that though so it's all ok! The show was announced in Spring 2014 with a view to being aired in the Autumn although we still have not seen Keith Barry doing hypnosis on TV at this point.
The show production date has been pushed back and it will now shoot the live portions in January 2015 at The London Studios with a likely airing of the TV show in the Spring.
You're back in the Room will see five strangers take on seemingly straightforward challenges after they have been hypnotised by mentalist Keith Barry.
You know that when you see the phrase "With hilarious consequences" as a result of the hypnosis, promised you are most likely not in for a treat. Philip Schofield will host the four rounds of the show where contestants will compete to win cash.
The contestants - who are each willingly open to hypnotic suggestion (or maybe in this case just showing off in front of people) - will be hypnotised by international mentalist (that's what he calls himself anyway!) Keith Barry and tasks which appear to be straight forward will become much harder as their hypnotic triggers cause them to inadvertently sabotage their own chances of winning.
Keith Barry explained what the show will entail..
"Contestants will be trying to win cash by doing a simple task and my job is to stop them doing that and also try to make it funny along the way, If they're trying to put green balls in a red hole, I'll try to stop them, that sort of thing.
UPDATE Now the show is on air: New Secrets from Behind the Scenes Videos and more now available:
Blogs talking about behind the scenes secrets of the ITV Hypnotist Show here:
http://www.markpowlett.co.uk/myblog/read_126162/twitter-thinks-youre-back-in-the-room-is-using-actors.html
http://www.markpowlett.co.uk/myblog/read_123451/are-they-really-hypnotised-on-youre-back-in-the-room.html
"Myself and Philip filmed the pilot together and he's brilliant to work with so we'll go into filming in January and then it's scheduled to air around Easter-time."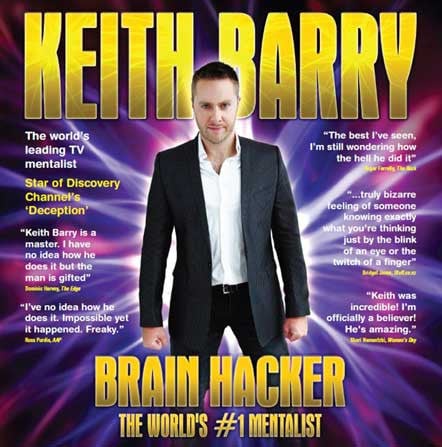 Phillip said of the filming project: "It's incredibly exciting to be launching a completely fresh, brand new format. This series is totally original and unlike anything I've ever hosted before.
"From making the pilot, the contestants are undoubtedly the stars of the show; their reactions are bizarre, hilarious, completely unpredictable and always thoroughly entertaining."
You're Back In The Room has been produced by Tuesday's Child for ITV and was commissioned by the channel's director of entertainment and Comedy, Elaine Bedell, and Commissioning Editor of Comedy Entertainment, Claire Zolkwer.
Claire said: "We are thrilled to have Phillip on board for this unique and exciting new show. It's entertainment the whole family can enjoy and I'm looking forward to seeing the contestants in action."
Listen to my FREE Relaxation MP3 Here: Relax and unwind in just ten minutes.
You can find out about one of the big secrets of what went on behind the scenes at the filming of "You're back in The Room" and also stage hypnosis in this short youtube video and how hypnotists can use one way to get their subjects on the stage to do whatever they want!
Are they really being hypnotised on stage?
If you have ever seen a stage hypnosis act you will know that it's not about being hypnotised...it's all about who will play up the most knowing that they can tell you it wasn't anything to do with them later on!
Bearing in mind that Keith Barry is a magician and mentalist this show is all about showbiz rather than showing all of the good things that hypnotherapists do....but guess what? The simple truth is that Keith Barry is a charming magician and he will entertain and that's what this show is all about. Apart from performing his mentalism shows he has currently been working on the Sequel to the film "Now you See Me" with Mark Ruffalo, Morgan Freeman and Michael Caine helping to teach them how to do magic tricks so he does have connections and pedigree.

What does Paul Mckenna say about stage hypnosis? Paul Mckenna first came to prominence as a stage hypnotist and this is what he says about hypnosis in front of an audience like that seen on You're back in the Room : "I used to appear on talk shows many years ago with my friend Dr. Graham Wagstaff from Liverpool University, and his take is there is no such thing as hypnosis, there is just social influence. And so we would start the show, and the interviewer would say Dr Wagstaff says that hypnosis does not exist, it's just social compliance, and it would annoy them greatly when I would say that I agreed with him. Yes you can say there is no such thing as hypnosis, or communication is some form of hypnosis, it's kind of a pointless debate really because the important question is what can you do with it."
Secrets from behind the scenes of the show: Here's a link to what happened during filming of You're back in the Room to the contestants: http://www.markpowlett.co.uk/myblog/read_123451/are-they-really-hypnotised-on-youre-back-in-the-room.html
Will you be watching and what will you actually believe?

So how does it really feel to be hypnotised?
If you wonder what being hypnotised feels like then it's really just about being relaxed and you can listen to a FREE MP3 HERE
People love to understand what is going on behind the scenes and so the interest in the Keith Barry: You're back in the Room show is likely to be as high as the interest in Derren Brown TV Shows. I have written about Derren Brown before, talking about behind the scenes and How Does Derren Brown hypnotise people and use hypnosis in his shows....It isn't always quite what you see that is happening...

If you want to read some of the secrets of Derren Brown then you can do that here...
http://www.markpowlett.co.uk/myblog/read_66540/Derren-Brown-Fear-and-Faith-How-does-he-do-it.html
There are also other blogs on Derren Brown which talk about different shows under that initial link. For example here is one about the Derren Brown show where he made a man think he was living in a zombie apocalypse....or did he?!
http://www.markpowlett.co.uk/myblog/read_64885/derren-brown-apocalypse-the-showman-at-work.html
So, are they really using hypnosis on You're back in the Room though? and what do hypnotherapists and hypnosis professionals think about it?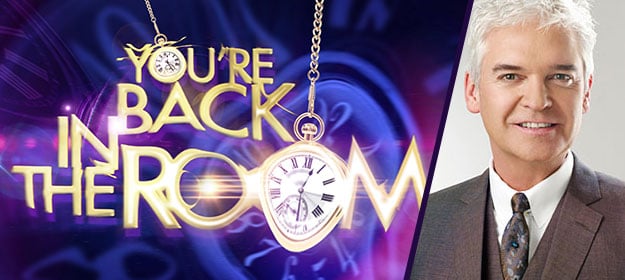 What do hypnotherapists think about you're back in the room?
The following comments were made by hypnotherapists in the UK and Hypnotists in the US about the show in a linkedin discussion about the show and whether the idea of hypnosis for entertainment is a good or a bad idea.
"Mark, as cringe worthy as it is to most of us, I think the sort of people who would consider using the services of a hypnotherapist are intelligent enough to know that hypnosis for entertainment is not the same thing as hypnotherapy."
"Mark, wish I shared your confidence, I was at a business exhibition yesterday and without fail everyone who found out what I do turned their heads away and made comments like "I better not look at your eyes never know what will happen"
"I don't see any problem with the programme youre back in the room with Keith Barry. It'll certainly cause me to cringe and yet it will raise awareness. It will harden the views of those who would never go near us in any event whilst pricking the curiosity of those who are more open minded.

I wish there were more programs like this. Bring 'em on!"
"I always do street type hypnosis at the local county fair. Last night was the first night of the fair, and of course I get the usual "cluck like a chicken" comments, but a group of teenage boys came by asking about the free demo hypnosis I do at the fair. One boy said, "That stuff isn't real is it?" I say yes, and asked for volunteers (all were 18 or older). This boy quickly raised his hand, even though he thought it was fake. I did a hand drop on him and he went into hypnosis, I deepened a bit, and then told him to imagine there were 100 helium filled balloons on his arm. About 10 seconds later he raised his head and his eyes popped open wide, and he said, "It was moving!" Of course I lost him after that, but he discovered it worked, and found he was a football player and he asked me about my sports improvement hypnosis and took a card. So I really can't see something like this hurting hypnosis any more than it already is, plus I think the more hypnosis is shown to the public, the more people will want to know more about it!!! Hopefully a win-win for us all!!!"
"I was approached by someone a couple of years back who was researching for a programme or film. But he kept asking about hypnosis as a way of controlling people to make them do what you would like and I really didn't feel comfortable with the questions he was asking. It was clear that he either wanted to sensationalise it or rob a bank!"
"Posters above have commented on the difference between stage hypnotism here and in the USA. Whilst we've had a few people succeed with the stage show format I've never seen anyone doing street hypnosis here. Have I just missed something or does it just not happen? "
"Love it. The more hypnosis is in the public awareness the more my phone rings. Every time a great hypnosis story appears in the news or on TV I earn more money. When Gemma Collins on The Only Way is Essex saw a hypnotherapist for Gastric Band Hypnosis my phone didn't stop ringing. All publicity is good publicity as they say."

"Would it be because we Brits are stereotypically more reserved and thus less likely to enjoy being approached by a stranger who wants to hypnotise us? Are we thus more sceptical and less valuable as subjects?"
"Sounds awesome, Mark ;)"
"I'm also of the opinion that this could increase general interest in hypnosis. If people become interested they are more likely to look more deeply into the subject and discover for themselves the different ways which it can be used. I quite often get asked questions about the difference between stage hypnosis and hypnotherapy, so I feel it does spark interest."
"I've spent years reassuring clients that hypnotherapy bears no resemblance to stage hypnosis which, in my view, trivialises a very powerful form of therapy. Unless the TV programme handles the subject of hypnosis very sensitively, I honestly believe it will only serve to reinforce common misconceptions about hypnotherapy."
"I think the jury is out on this one until we see how it's handled, though I see it as a step backward, especially now a few enlighted people in the medical proffession are taking hypnotherapy seriously. I'm not sure how becoming part of a game show can help it's credibility (in the UK anyway) That said, 'Embarrassing Bodies' doesn't seem to have stopped people going to the doctor - but the participants are not laughed at, so it depends on how it is portrayed. I'm sceptical to say the least."
"I'm guessing that it won't do as much damage to clinical hypnosis as the existing dodgier elements of the trade who make claims for all sorts of things that don't have any empirical evidence whatsoever! :)

However, it is a shame that ITV didn't opt for Monkey Tennis."
"I think the general public are not credited with enough intelligence. Of course there are are individuals that won't get it, but I truly believe that people understand that there is a difference between what goes on in stage hypnosis and what happens in a hypnotherapy session."
"Whenever there's publicity in the media I think it stirs interest in people and it makes it more 'accessible' to the masses, and yes typically, the phone does ring a lot more with inquiries. However, I have concerns too that it can tar hypnotherapy with the same brush up stage hypnotism and it continues to reproduce age old discourses of what hypnotherapy isn't and it takes us back a stage to having to justify that what we do is not doing to cause people to feel alarmed/scared by it. What these publicity 'stunts' do though, is show the power of mind over matter and if it can do that then what might it do for my anxiety or IBS?!"
Here's a comment made by someone who auditioned for the hypnotic gameshow on one of my You're Back in the Room Review Blogs....about how they felt... "I auditioned for this show at the Manchester audition at Manchester town hall, was a strange experience, the guy next to me just wouldn't stop laughing an falling into me, I did think it was a act due to how it played out, there was also a small Lady who too reminded me of a amateur actress lol, sadly I didn't get no further, although Keith Barry said we wouldn't remember what happened! I remember it all! So after a long think! My conclusion is they are looking for people who purposely carrys on for the camera because it will make great TV, I had a good laugh and was a good experience, I look forward to watching the show"
The discussion goes on! What do you think. Feel free to make your own comment on how you feel about this Hypnosis TV show on ITV hosted by Phil Schofield "You're back in the room"
Keith Barry The entertainer....
Keith Barry is certainly someone who like a few publicity stunts. One of his ideas is to predict that Prince Harry will get a girl pregnant. Keith Barry used his facebook page to make this announcement and sure enough it was picked up by tabloids such as the Daily Mirror who reported it with glee. He is also predicting postal strikes. If I was able to predict the future I am not sure that talking about striking union workers would be the most interesting thing that I could come up with! As he is known as a magician apart from anything else perhaps his card tricks are more exciting than his predictions of the future.
Get a FREE RELAXATION MP3 HERE
Who is Keith Barry?
Keith Barry is known as a mentalist and magician more than as a hypnotist. As a Clinical Hypnotherapist what I do is very different from what a Hypnotist does. I work with my clients to help them learn to relax and let go, but in actul fact any performer on the stage who wants a good hypnotic show is looking for someone who is far from relaxed, but very open to suggestion. Those suggestions are often actued upon because of the pressure of the audience watching rather than through being hypnotised. In fact if you were to watch the people who were really hypnotised in a hypnosis show they would be the ones who were sat relaxed with their eyes close and not the ones dancing about like fools. When you say you were hypnotised in a hypnotic show what you are really saying is that you were given persmission to do what seem like silly things because you can blame it on being hypnotised!
Keith Barry has appeared on MTV and had his own specials "Brain Hacker" and "Deception with Keith Barry" on cable tv channels as well. He also had an ITV show before called Keith Barry - The escape. Now working with Philip Schofield on You're back in the Room is a dream come true for him as he has been on the hunt for a primetime show for a while. He has hosted the Irish version of the show Deal or No Deal as well. He has recently been working on the film Now you See Me:The Second Act helping to teach Mark Ruffalo magic tricks.

The Keith Barry Ted talk has been viewed many millions of times. It's a very entertaining look at what he does. Make sure you watch it thinking that perhaps all you are seeing is not exactly what you think you are seeing and I think you may well enjoy it!
You can watch his Ted Talk on Brain Magic below...
You're Back in the Room with Philip Schofield and Keith Barry hypnotising members of the public will air on ITV in 2015
NEWS Simon Cowell Hypnotised by hypnodog during Britain's Got Talent auditions in Manchester... listen to this radio interview with Jonathan Ross from BBC Radio 2 to find out what really happened and how Simon was not really hypnotised at all...