A talk at the WI lite in Stratford upon Avon
Posted on
As we approach the end of the year and a chance to have a few days off with family and friends I am just taking a few moments to have a quick look ahead at the first week of the New Year. At the start of this New Year I was preparing to go off and do some more of my BBC radio shows but for 2013 my first week is all about my hypnotherapy practice.
As the practice has grown I have been able to get more and more out of the satisfaction that I get from working with clients and seeing the changes that they make. It's all about them and the work they do. I can't make anyone do anything they don't want but those who really want to see a change can see it in just a few weeks.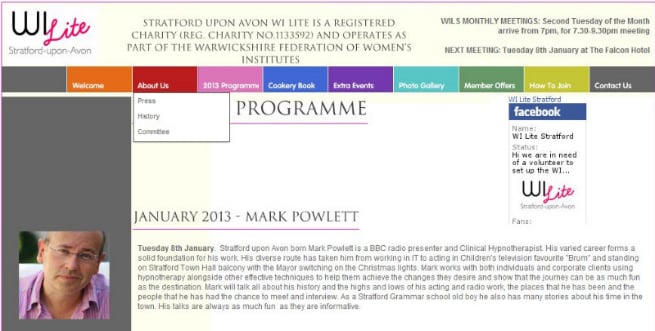 So, I am back with clients on the 2nd January and then it is all systems go !
My first speaking engagement of the year is for the WI Lite group in Stratford upon Avon on the 8th January. I love speaking to groups about all the different things that I do and so I am very pleased that my first talk is so near the start of the year. It is a really good way to get fired up and positive about what the year ahead holds.
The talk takes place in Stratford at the Falcon Hotel so a lovely venue and I can't wait !
Here are all the details... Talks at the WI Lite in Stratford upon Avon