Hypnotherapy for Performance Anxiety
Posted on
It is said that in the Western World the most common anxiety is the fear of standing up in front of people.
Performance Anxiety comes right under this banner of fears.
Whether it is a work presentation or as an actor or singer on a stage, you are not alone. If you find yourself sweating and with shaking hands, knocking knees and a dry throat that makes you want to clear it and cough before presenting at work or standing on a stage to sing, dance, act or even accepting an award, you are in great company
Does Hypnosis for Performance anxiety work?
Some people can find that it can be a real struggle to even speak up in an office meeting. It isn't even always the people that you think. The idea of Faking it til you Make it is a very common way for people to fight through the nerves.
Do celebrities suffer from Performance Anxiety too?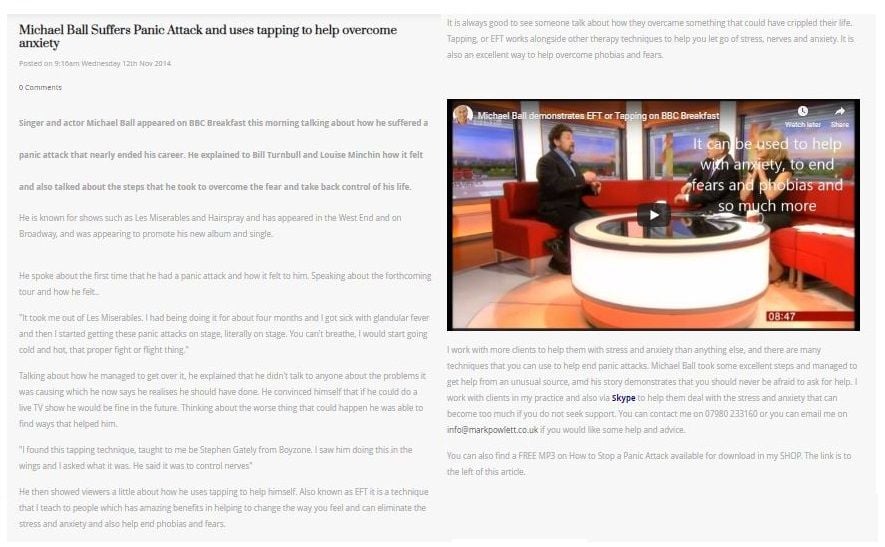 Celebrities have often spoken out about their nerves when appearing in front of people.
Stars such as Cheryl Cole, Adele, Michael Ball, Jess Glynn and Katy Perry have had hypnotherapy session to help them deal with the anxiety of getting on stage.
My background was as a performer so through this I have worked with some famous names, although everyone I work with is confidential. It doesn't matter if you are worried about performing at Wembley Arena or talking in a work presentation. When you work with me no one needs to know, unless you want to tell them of course.
Anxiety disorders can seriously impact your day to day life from school to work presentations, and even your personal relationships. When you feel overwhelmed it is time to find a way to deal with it.
Nerves and Excitement can be very similar
Does that sound strange? In fact the feelings around both nerves and excitement are physically the same, so when you learn to see it as excitement then you can really look forward to standing in front of people instead of dreading it.
You can find out more about how I could help with stress and anxiety, whether it comes from performance anxiety or from any other route, you can learn to let go, to manage your stress and start to think about how you really want things to be with the right help.
You can email me on [email protected] in confidence.