Motivational Speaking from IBM to Brum - talking to the students..
Posted on
I love the fact that I get many opportunities to speak to people about the fact that I am a clinical hypnotherapist and what that actually means. I also often get chances to talk all about the other things that I have done during my career. I was recently lucky enough to be invited to Stratford School to speak to the sixth-form all about what they could expect once they finish their education. They were also kind enough to write a little feature all about it...Here is what they said...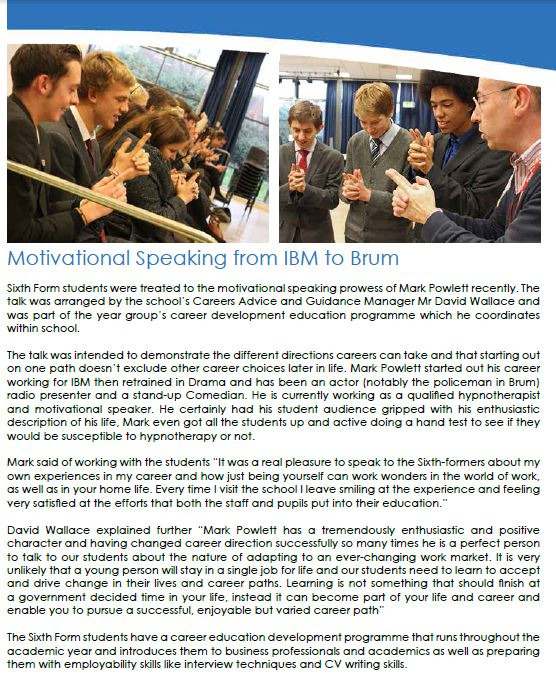 Motivational Speaking from IBM to Brum
Sixth Form students were treated to the motivational speaking prowess of Mark Powlett recently. The talk was arranged by the school's Careers Advice and Guidance Manager Mr David Wallace and was part of the year group's career development education programme which he coordinates within school.
The talk was intended to demonstrate the different directions careers can take and that starting out on one path doesn't exclude other career choices later in life. Mark Powlett started out his career working for IBM then retrained in Drama and has been an actor (notably the policeman in Brum) radio presenter and a stand-up Comedian. He is currently working as a qualified hypnotherapist and motivational speaker. He certainly had his student audience gripped with his enthusiastic description of his life, Mark even got all the students up and active doing a hand test to see if they would be susceptible to hypnotherapy or not.
Mark said of working with the students "It was a real pleasure to speak to the Sixth-formers about my own experiences in my career and how just being yourself can work wonders in the world of work, as well as in your home life. Every time I visit the school I leave smiling at the experience and feeling very satisfied at the efforts that both the staff and pupils put into their education."
David Wallace explained further "Mark Powlett has a tremendously enthusiastic and positive character and having changed career direction successfully so many times he is a perfect person to talk to our students about the nature of adapting to an ever-changing work market. It is very unlikely that a young person will stay in a single job for life and our students need to learn to accept and drive change in their lives and career paths. Learning is not something that should finish at a government decided time in your life, instead it can become part of your life and career and enable you to pursue a successful, enjoyable but varied career path"
The Sixth Form students have a career education development programme that runs throughout the academic year and introduces them to business professionals and academics as well as preparing them with employability skills like interview techniques and CV writing skills.