Connie Fisher has Hypnosis to help with baby worries
Posted on
Connie Fisher has Hypnosis to help with Worries
Songs of Praise Presenter has Hypnotherapy for her fear of motherhood
Connie Fisher, known best as a presenter of Songs of Praise and for her appearance in a Musical version of The Sound of Music features in a new documentary about childbirth, pregnancy and fertility for BBC one.
She was one of twins, but sadly her brother Justin died at birth, and although Connie know about him she had not connected her own fear of having a baby to this event.
She knew she was scared of what would happen if she was to fall pregnant, but couldn't put her finger on where the feelings were coming from. During a session of hypnotherapy she started to see where the connection had come from.
During the programme Connie Fisher: Baby Love which will be broadcast on BBC One Wales at 8.00pm and then available to watch on the BBC iPlayer on January 18.

As part of the programme Connie visited a nursery, met mums suffering from post-natal depression and watched a birthing video. This led to her deciding to undergo hypnotherapy to try work out where her childbirth fears had come from.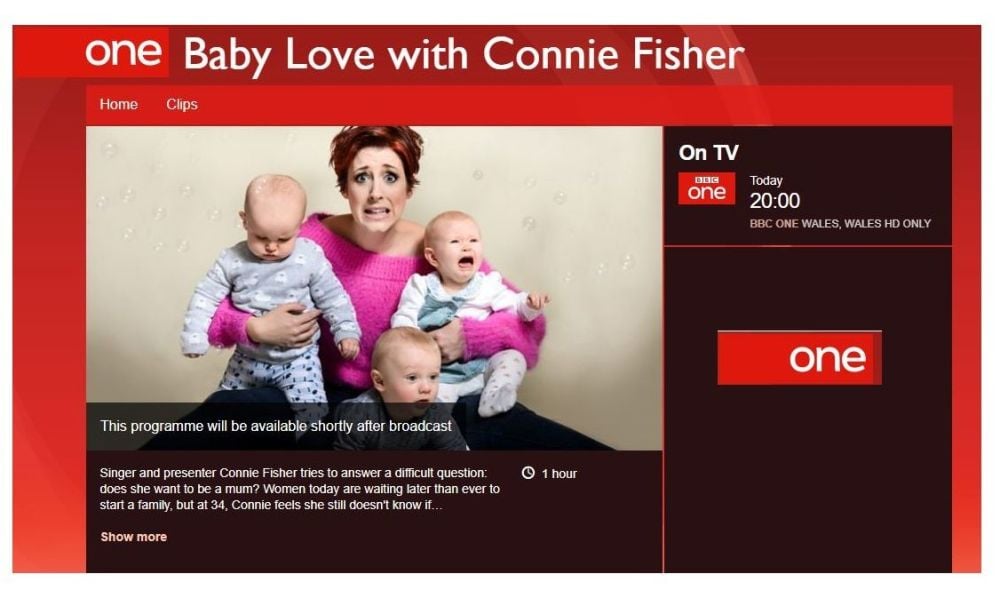 After breaking down in tears talking about the death of her twin brother Justin.
She tells the hypnotherapist about a family day out when she was a child and her parents told her of Justin's death in hospital.
Connie said: 'Mum said to me "Justin would be proud of you", I knew then he was my brother.
Speaking about the programme Connie said: 'Hypnosis was a complete revelation to me.
"I must have picked up on the sadness of the loss of my brother but mum in no way wanted it to hold us back."
Hypnotherapy can help you to come to terms with things that have happened in the past that may be holding you back, so you can understand them and let go of any hold that they have over you that is limiting you.
You can find out more about how Hypnosis can help and even listen to a free MP3 just click in the link above.
Programme Synopsis... BBC One
Baby Love with Connie Fisher
Singer and presenter Connie Fisher tries to answer a difficult question: does she want to be a mum? Women today are waiting later than ever to start a family, but at 34, Connie feels she still doesn't know ifmotherhood is for her.
Happily married for seven years, and enjoying a thriving career, life seems good. Why complicate things with a baby if she's not sure? Growing up as a single child, and not having much to do with kids, babies have always seemed an alien concept to Connie. But she can see the joy that children clearly bring to so many, and she worries that she and her husband will miss out if they don't start a family soon.
In an attempt to resolve this dilemma, Connie sets out on a journey across Wales, meeting different women who have each made their own decision about motherhood. Connie hopes that by exploring the worlds of parenthood, child-free life and childlessness, she'll be able to make an informed decision about her own path. But a seemingly straightforward journey becomes a revealing and personal quest as, to her surprise, Connie unearths her own complicated feelings about motherhood.