Vespa Rust Problems and Customer Service Issues
Posted on
This Blog is normally used for positive reasons, but sometimes it is important to talk about things that make us feel negative too. This is the ongoing story of terrible customer service and how the Piaggio Group who make the iconic Vespa brand are selling new scooters that rust like an old British Leyland car from the 1970s.
You would have thought that by now rust issues would be a thing of the past. Not only that, you may also think that if something started to rust it would be easy to get it fixed under the warranty that does cover the paintwork. I thought I was alone when I noticed some rust on my scooter which was less than a year old, but now nearly 8 months later and with it still not sorted I have found that it is much more common than I realised.
When I posted on a Vespa page on facebook about my issues...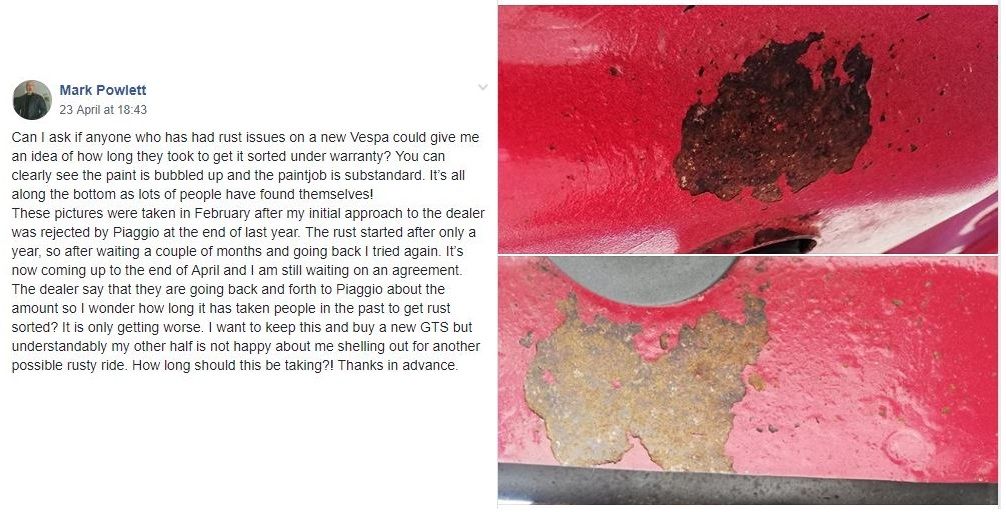 ..It turned out that many others were having problems with rusty Vespas too..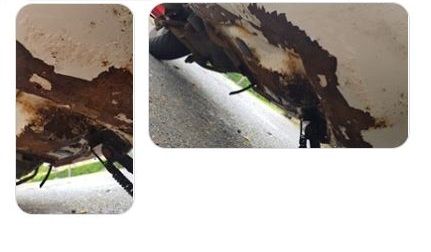 So here's a timeline of what happened to me which currently is still ongoing. When it gets sorted and as things happen I will continue to update it, in the hope that it may be useful to you if you are having problems with your Vespa getting rusty and want to see what you can do about it.
UPDATE: July 2019... There's now a video diary of what has happened with the Vespa Rust problems. You can see exactly what has happened here:
September 2018:
It was September 2018 when the Scooter was still only 11 months old when I noticed as I was cleaning underneath that there were a couple of patches of rust appearing where the paint was coming off that that it was bubbling up too.
For the record the Vespa had done a little over 1000 miles and was kept in the dry. The only time it had been ridden in the rain was when I was caught in it and...I actually dried it off when I got back that day! I think it is fair to say that if it had more mileage on it and had been left out in all weathers i STILL WOULDN'T EXPECT to see rust at this point.
Here's what it looked like then...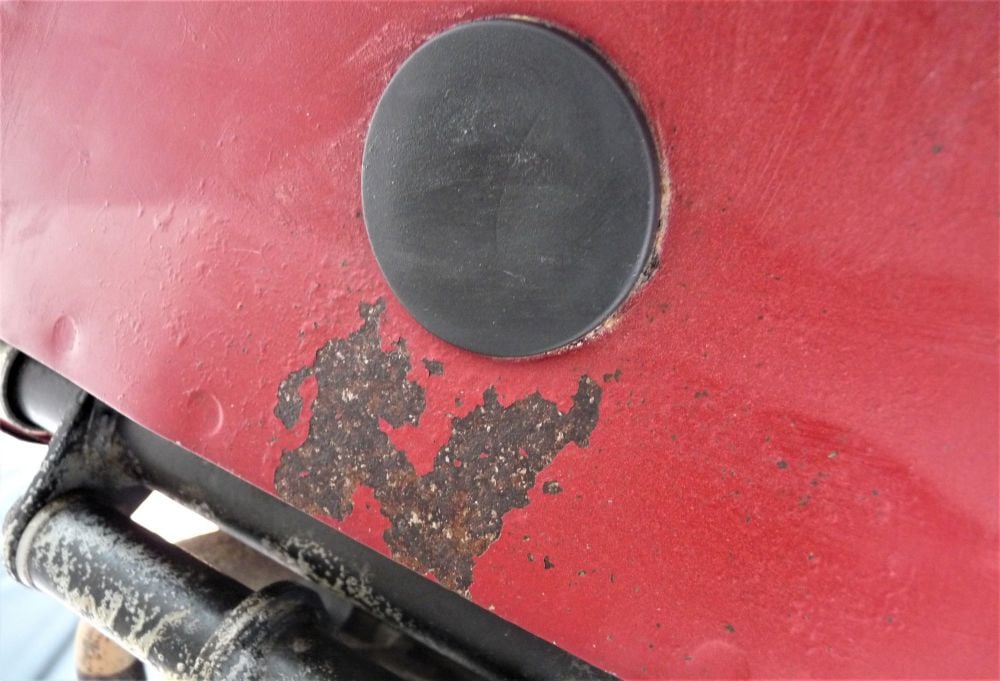 Remember that this was after less than a year. It is not acceptable that a new vehicle costing thousands of pounds should be like this. Of course, if I had just pointed it out to the dealer and it had been sorted then perhaps the story would have ended there...sadly it is still ongoing.
So in September I took it to the dealer who took photographs and then said they would put in a warranty claim with Piaggio. They mentioned that the shock absorber looked rusty too and that they would also put in a claim for that.
I waited and chased them up with no response a couple of times, until after a month I finally received an email from them on..
15th October..
This was the response from the dealer..
"Paint work warranty as been refused but rear shocks have been approved."
so the paintwork was not going to be sorted. At this point I decided that I would contact Piaggio customer services in the UK myself to find out what was happening. It's not easy to find their contact email but in case you ever need it it's: CustomerService[email protected] Don't try ringing they are not keen on talking.
Here is the email I sent to them on 22nd October 2018:
Hello,
my Vespa is reg number xxxxxxx and was bought from xxxxx in October 2017.
I contacted them in September of this year about rust that had appeared underneath the scooter and they asked me to bring it in which I did on the 18th September.
At this time they took pictures of the bad paintwork underneath and the rust forming and also the shock absorber at the back which they also noticed was rusty. They expalined that they have to put a warranty claim in to yourselves.
The Vespa has been kept in the dry and not ridden in the wet, with under 1400 miles on it. There was one occasion I got caught in the rain on on tis case I even dried it once I got home !
However, if it had been left outside in the rain and used to commute in the wet I still do not believe that it should be rusty underneath.
I have now heard from the dealer that under the warranty you will replace the shock absorber but that you have refused a warranty claim for the paint.
I do not find this acceptable. There can be no way that the goods supplied are fit for purpose if the paint has come off the underside and rust has started to form within one year of dry use.
Since this has happened I have seen many other pictures of new Vespas in the same condition and it seems to be a pattern so clearly the workmanship on this case was not a one off.
I would like you to take a look at this again please as I do expect the paintwork underneath to stay on the scooter and not come off in what amounts to less than normal use.
I look forward to hearing from you.
Please do let me know if you need any other information from me.
Regards,
Mark Powlett
So now I had to see what they said about it. They responded that I needed to go back to the dealer and have it seen again. After some to and fro it became clear that the dealer was telling them different things to what they were telling me. Despite the fact that they didn't respond to my messages they had told piaggio it was me not them and that perhaps my emails had not been delivered. They also told me that I had to go via the dealer and that I couldn't go to another dealer now as this was the one I was with.
No matter, I don't really mind what they are saying about me, just as long as the problem gets sorted.
I am aware that I have already written so much so let's skip forward to the end of February 2019
February 2019:
I go back to the dealer AGAIN for them to take some more pictures and send them off for the warranty claim. Here's how it looked back in February 2019: It's got much worse now.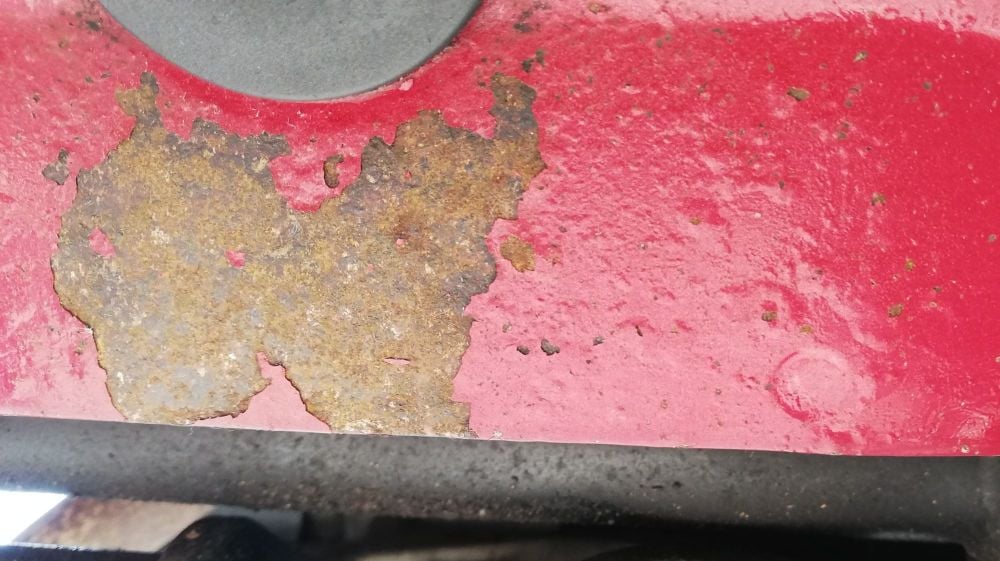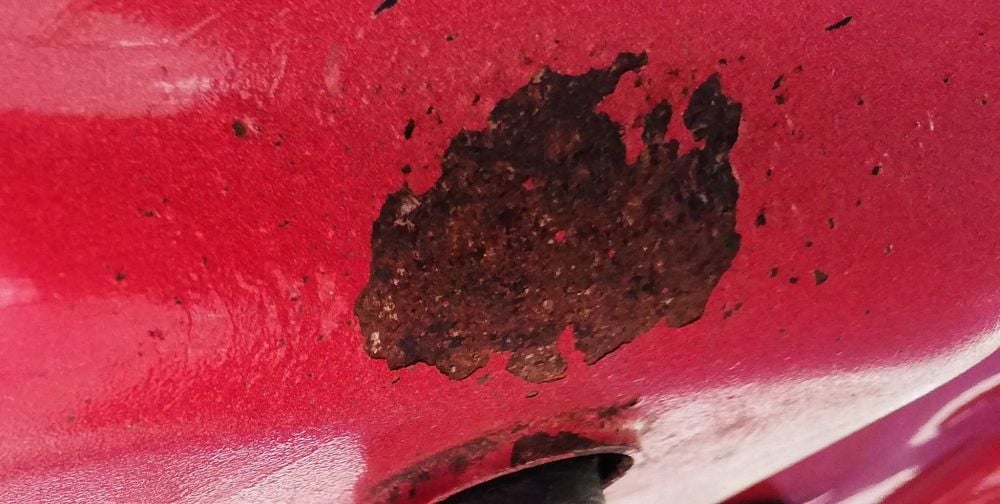 The rust is clearly spreading. Not that this is surprising. During this time the Vespa has hardly been ridden and only another 300 or so miles has been done. It has been kept in the dry and it has also been treated with ACF50 which lots of people recommend to help stop rust. It turns out that ACF50 works better before the rust starts though!
SO, yet again a warranty claim is put in..again for the shock and SO I THOUGHT also for the rust.
I email to chase it up and even take my other half into the dealer to see them as I want this sorted so that I can buy a new GTS. (Yes, I must be an idiot for thinking about doing that!) They say that they are still trying to sort this with Piaggio.
This carries on for a couple of months until I put up a post on facebook to ask if anyone else has had this problem and how long it took to get sorted.
23rd April 2019 I post my question and all of a sudden I get a huge response which seems to indicate that the dealer may be taking a lot longer than normal..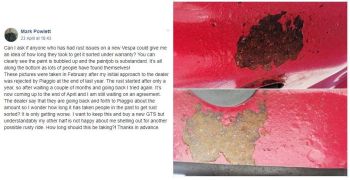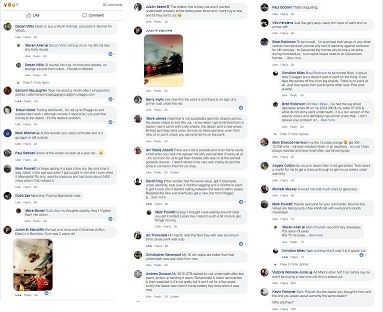 It is really great to be able to share problems and get so much good advice. People are suggesting that I go to trading standards as well as other things. No once seems to thing it is acceptable. I take comfort from thinking that I am not going mad expecting it to be sorted.
At this point I also heard from a different Vespa dealer who told me that I should in fact be able to take it to any dealer to get it repaired under the warranty which was great to hear.
So, I contacted Piaggio again to ask them what was happening and imagine my surprise when they responded by saying that they had approved the shock absorber...but needed to see if I had taken the Vespa back as per their response from last year. This can only mean that either there is a huge miscommunication or that the dealer hasn't even put in a warranty claim for the paint, and even worse has been lying to me about it just to drag it out. HAVE THEY NOT EVEN PUT THE CLAIM IN ??
That seems ridiculous at this point. It can't be that surely? They have nothing to lose as Piaggio will pay them to sort it and I wanted to buy another Vespa from them too.
When I went back and asked piaggio to comfirm that there was a claim in for the paint they told me that they need to investigate!!
So, as of 26th April 2019 I am still waiting to find out if the claim that I first tried to put in back in September 2018 has even been put in at all.
Watch this space! Whilst I haven't named the dealer because I want this sorted out and I am not here to name and shame, my patience is starting to wear a little thin now! I like to think I am a calm and relaxed easy going person, but my limits are just about being reached now.
If you have had Vespa rust issues and are happy to share your story and any pictures, do let me know I think perhaps it is time we all started gathering some more information and sharing this problem more widely.
UPDATE: Tuesday 14th May 2018:
As we approach EIGHT months since I first reported this problem to the dealer I have been chasing again. Piaggo asked me to leave it with them rather than the dealer and as the dealer have not spent much time keeping me in the loop. chasing or acting in my interests then I have just chased Piaggio again. I have heard nothing back.
After posting those couple of pictures on facebook and getting some people offer to help, a dealer told me that they would do all they could to help, even though they were not local. I dropped him a line and he has passed on my information to the local area customer service representative who may well pull their finger out now that they know that I am not jsut going to foget about this.
Let's face it, you would think after nearly eight months they would think that it would be a good idea to help me out and actually do something to help?!
What happens next...only time will tell?!
15th May 2019
So, after all this time Piaggo finally get back to me to tell me that the claim is approved and that
Please accept our apologies for the delay. I can assure there has been some back and forth with the Factory in the background along with discussions with the dealer.
The claim for repair has now been approved.
Our technical team will be contacting the dealer to make them aware and in turn I am sure they will contact you to arrange for the vehicle to be returned to the dealership for the work to be carried out.
Kind regards,
Shelley
So, what happens now!? Hopefully we get the problem sorted! It's clear that the back and forth is just basically them denying any responsibility, but fingers crossed we can move forward now.
18th June 2019

I gave the dealer some time to get in touch and as I know that they tend to do nothing I then chased Piaggio AGAIN to make sure they were in the loop. And now the latest news is that the dealer told them they were surprised I had not been in contact! I expect the idea that they could do a good job and contact me never occurred to them. Of course, the other reason they didn't is because the dealer have yet more excuses. NOW THEY DON'T HAVE A PAINT SHOP CONTACT!! No wonder they have not contacted me, if they are making excuses like this to piaggio. Also, it's interesting to remind you that piaggio wont talk to me on the phone and will only deal in email! You can probably tell by now I am not a shouter and I have a lot of patience. Even so, they are clearly embarrassed by the lack of service they are giving me. Here's what they said in the email....
"They have informed us that the contract painter they use has ceased trading and are currently looking to appoint a replacement. Our technical team have offered further support and assistance should they require."
So this time I have emailed both of them and copied them both in to see if anything happens. At this point I also think it may be time to look at contacting trading standards for some assistance.