Why is Boy George Tapping his face on I'm a Celebrity get me out of here?
Posted on
Why is Boy George Tapping his face on I'm a Celebrity get me out of here?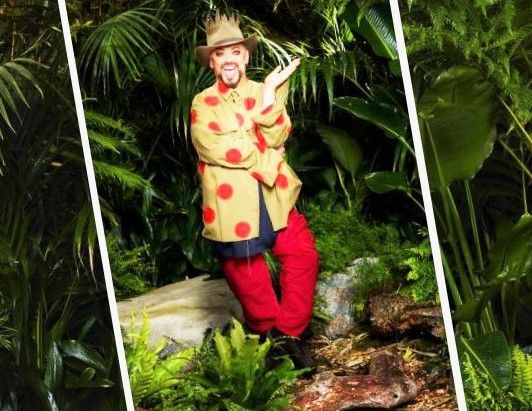 Although much of the talk around this year's jungle antics with Ant and Dec seems to have focussed on the arrival of Matt Hancock some eagle eyes viewers have noticed that as well as taking himself off for some much needed alone time Boy George has been seen tapping his fingers on different parts of his face and body. He wants to avoid a clash with Charlene White who has been taking control of head chef duties and perhaps bossing people around a bit too much!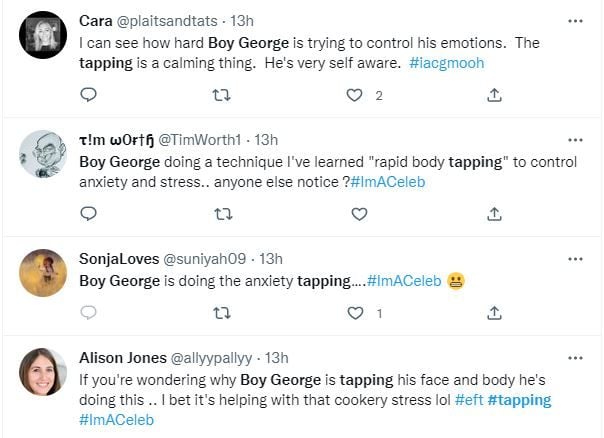 So whilst some viewers are well aware of what Boy George is doing to help calm his stress and anxiety, especially around the campfire cooking and the hierarchy of chefs others are just wondering what tapping yourself on the face can do to help. Some people have wondered if he is using a secret tapping signal to send messages to people who are not in the jungle. Actually he is simply using a very effective method that uses tapping of the face and body to releive stress and anxiety.
So What is Tapping? How does it help with stressful feeling and anxiety?
Also Known as EFT, although most people just refer to it as "Tapping" the Technique that Boy George is using when he is feeling stressed helps to relive the symptoms of anxiety.
It was discovered by Gary Craig who published a Tapping and EFT handbook explaining what he has discovered about it. It is a technique similar to acupressure and involves tapping on certain pressure points around the face and on the body and hands. What is remarkable about the technique is that you really can tap away stress and anxiety. Many researchers are looking into the efficacy of tapping and there are many clinical studies on EFT already published that show how well it works.
In fact Tapping has been used by lots of other famous people as well who have spoken about their experiences of the tapping technique.
Here is Michael Ball speaking about how he uses it to calm his nerves and to avoid stage fright.
It's such a great technique because once you are taught how to use it you can use it for yourself. In fact I have often taught it to my clients who have then passed on the Tapping technique to others so the calmness can be spread.
How can I learn the Boy George Tapping technique?
I work with people in person to show them how it works, but one of the great things about it is that you can also work online. So, I work on both Skype and Zoom to show people the benefits. I can even use it to help with letting go of fears and phobias.
You can read all about how I used it to accidentally let go of my own fear of height without even trying here: https://www.markpowlett.co.uk/myblog/read_121463/what-is-tapping-how-does-tapping-work-all-about-eft.html
You can watch another BBC news report all about Tapping and EFT here too:
If you would like to contact me just click on the Contact Me page and do let me know a little about what you are looking for help with.
Since I wrote about Boy George Tapping in the Jungle it seems that much of the media has cottoned on to the practice and started to write about it as well.
OK Magazine wrote about what it means when Boy George Taps his face and neck saying
"And now, viewers at home think that they have figured out the secret to the 61 year old's tranquillity and have applauded the musician for using Tapping to help remain calm. Drawing on the ancient Chinese practice of acupuncture, EFT claims to help relieve feelings of stress, depression and anxiety by altering the body's energy to restore balance. It's believed that the physical action of tapping certain points is able to relax our nervous system by disrupting our fight or flight response and therefore increasing the amount of endorphins in our body."
The Daily Express talked about it as if it is a Secret Tapping Technique which isn't really the case as many many people all over the world have been using it for years!
I'm A Celebrity...Get Me Out Of Here! fans are convinced Boy George has a secret "tapping signal" after he was spotted "tapping" his face and neck during last night's ITV instalment.
Although they are acting as if it is a secret signal it is really just a great way to release that stress and anxiety. The Express talks about it as a Distraction Technique, but actually Tapping does a great deal more to help that just distract you.
Most of the Papers have found people on Tik Tok Boy George Tapping posting videos all about how Tapping helps them but of course, because Tik Tok is all short form videos it isn't always the best place to find out how to do something successfully.