The Speakmans want the NHS to take on their therapy instead of EMDR
Posted on
TV celebrities Nik and Eva Speakman who I have

written a lot about in the past

appeared on the ITV show This Morning with Phil and Holly to talk about their therapy and how they want it to be available on the NHS.
As a therapist myself it would be unprofessional for me to talk about another therapist and their ideas as everyone is different and all therapists bring much of themselves to any therapeutic relationship. Having said that, I am trained and qualified to help people with the techniques that I have, including EMDR and the Speakmans have no training, no qualifications and have never been a member of any recognised bodies. This means that if I point out some of the issues with what they do then the most important thing to point out is that they basically appear on This Morning for ITV and are very keen not to share what they actually do, or how they do it.
The Daily Mirror reported that ...
The Speakmans SLAMMED as they declare their psychotherapy is 'better than the NHS' and call on the Royal Family for support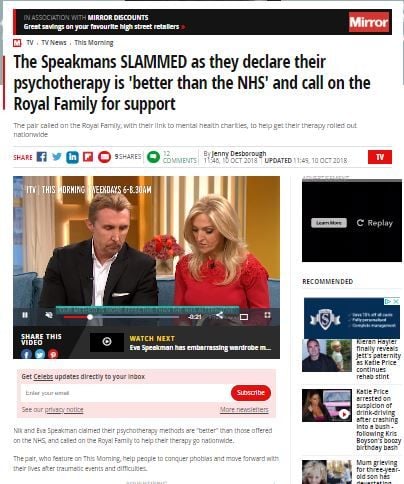 Twitter users made some interesting points about the couple..

and one user made the point that no reputable therapist would claim they could help everyone, yet the Speakmans pride themselves on a very unrealistic success rate..

So whilst the Daily Mirror reported on how they spoke about a trial they said was taking place and the Daily Mail got on board too saying...
"The Speakmans reveal their controversial self-developed therapy method has been BACKED by an academic study for the first time (but some viewers are still not convinced)
Nik and Eva Speakman practise visual schema displacement therapyThe TV couple have faced criticism over the method as it has not been proven "
The biggest issue with the Speakmans remains that they have no training and to say the things they said about EMDR is very destructive. It is wrong to claim that a secret way of working is better than one that is proven and used around the world to help people, with stress, anxiety, PTSD and many other problems.
The other interesting thing is that despite them not talking about what they actually do behind closed doors it sounds like what they do is very similar to EMDR and may well be just them taking some of those ideas and trying to rebrand them.
According to the Mail...The couple practice visual schema displacement therapy (VSDT), also known as visual coding displacement therapy (VCDT)
This it appears uses eye movement, which coincidentally EMDR uses to great effect. Perhaps the biggest difference between what they are doing and what therapists around the word do is that you can't actually see them unless you want to be featured on TV or pay to see their live show.
If you are looking for help then bear in mind that being trained and regulated may be a better indicator of whether someone can help you than if they appear on and ITV sofa.
What is EMDR? If you would like to find out all about EMDR and how it works then just click HERE