What Therapy is Prince Harry doing on the new Oprah Winfrey Documentary where he strokes his arms and moves his eyes?
Posted on
What Therapy is Prince Harry doing on the new Oprah Winfrey Documentary where he strokes his arms and moves his eyes?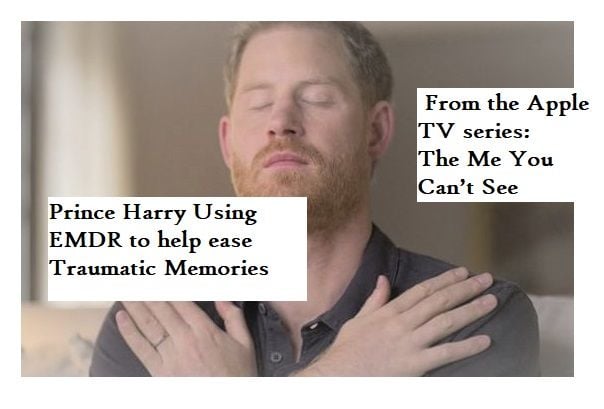 In the new series Harry can be seen working on some of the trauma in his life using a technique called EMDR. The show is called The Me You Can't See. The TV show first airs on Apple TV+ on May 21st 2021. In the show he can been seen with his arms crossed and tapping whilst focussing on some bad memories from the past whilst noticing what feelings and memories come up for him. Lots of other famous people have also had EMDR in the past and talked about their experiences including Mel B from the Spice Girls, Kate Garraway and Jameela Jamil.
What is EMDR?
It stands for eye movement desensitisation and reprocessing and therapists such as myself use it to help treat unresolved anxiety and problematic memories. Price Harry is seen using it to help with issues stemming from the death of his mother, Diana, Princess of Wales, when he was 12.
Speaking about how it felt for him Prince Harry said.
'EMDR is always something that I've wanted to try and that was one of the varieties of different forms of healing or curing that I was willing to experiment with.
'And I never would have been open to that had I not put in the work and the therapy that I've done over the years.'
Where did EMDR come from?
Back in the 1980s EMDR was developed by a US psychologist, Francine Shapiro, a Senior Research Fellow Emeritus at the Mental Research Institute in Palo Alto, California.
Out one day and while walking in a park, Francine Shapiro suspected that her eye movements were lessening the distress of her own traumatic memories. She tested the approach on others and over time built up a standardised psychological therapy for treating people with traumatic memories. It is now used worldwide by many practitioners alongside other psychological interventions
Is EMDR like Prince Harry is having used by many people?
Yes, in fact EMDR therapy is recommended by the National Institute for Health and Care Excellence, and the World Health Organization for post-traumatic stress disorder (PTSD), and it is used for a variety of problems brought on by past trauma.
My own experience of helping people by using EMDR....
In my experience it is used to help people who still have an emotional attachment to a memory that has happened. It is something that we can often see when people find it hard to talk about or remember. Sometime people will have a single distressing event in their past that resurfaces through intrusive thoughts, nightmares or flashbacks, causing fear, anxiety and sometimes an urge to avoid situations that trigger the memory. Other times there may be a number of events and we can use EMDR to work through them and help break that attachment and teach them to let go of that anxiety.
In his own experience of having this intervention as part of his therapy Prince Harry describes flying into London as being a "trigger" for his own anxieties and sense of feeling "hunted".
How do you do EMDR on someone? Can you do EMDR on yourself?
Although I am a Clinical Hypnotherapist this is one technique that I can use to help people which in fact involves keeping your eyes open and then while focused on a particular experience or event, anyone undergoing EMDR receives what is called "bilateral stimulation".
In Prince Harry's case, he crossed his arms and tapped his chest alternately on the left and right side to provide the stimulation. There is no hypnosis involved: people are fully conscious during the therapy.
You can read more about EMDR here: EMDR More information
So, How does EMDR process your memories for you?
'Memories are processed according to previous experience and assumption and then assimilated,' explains chartered clinical psychologist and former president of the EMDR Association in UK and Ireland, Dr Robin Logie. We learn from memory: hot items aren't picked up, certain foods avoided. These are all filed away and, on the whole, memories from long ago are vague. But if you have a bad experience, that negative memory is frozen in time. Your brain can't process it and the memory returns in dreams and flashbacks, often with a physical response such as feeling sick or actual pain. Rather than fading, it stays as vivid as the day on which it occurred. It hasn't been correctly processed.'
If you would like to find out more about how EMDR could help you then do feel free to drop me an email and tell me a little about what you are looking for help with via this link [email protected] .
If you are not local and do not want to work on SKype with me then here's some advice.
If you are looking for someone local to you who could help you, my advice would be to check what other training and qualifications they have alongside EMDR so that they have the widest available methods to really help you to get what you want.