Red Red Wine singer Ali Campbell from UB40 hasn't drunk beer since having hypnotherapy.
Posted on
Red Red Wine singer Ali Campbell from UB40 hasn't drunk beer since having hypnotherapy.
15 Years ago Ali Campbell say a hypnotherapist to help him with a drinking issue.
Whilst he still has the odd drink his intention was to help him with weight control. He also suffers from type 2 diabetes another reason he has made great efforts to shed his extra weight. He has attempted to undergo a lifestyle transformation by juicing, but soon realised that was doing little to help his health.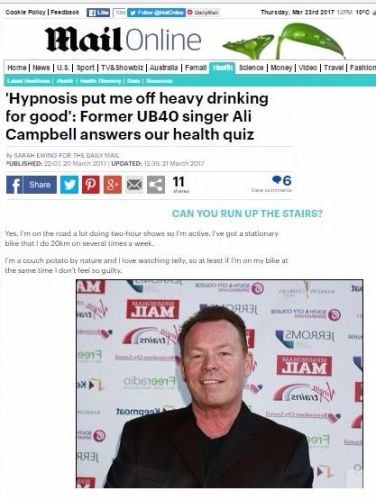 Speaking to The Daily Mail newspaper the singer, best known for his band's cover of the Neil Diamond song "Red Red Wine" said:
"I've always worried about my weight, partly because I used to be a heavy drinker. I was hypnotised 15 years ago and had aversion therapy, where I had to visualise a giant ten-pint glass getting more and more disgusting. I haven't drunk clear beer since, but I still have the occasional Guinness."
"I've had type 2 diabetes for a few years, so eating healthily is important," he continued. "I was quite heavily into juicing, having a couple of pints of something like carrot, apple and ginger a day, thinking I was being super-healthy. But I was having so much fruit sugar that it made my diabetes worse, so I scaled it back."
UB40's Ali Campbell quit beer addiction after having hypnosis
Often people see me with help for drinking issues and it isn't simply a way to help deal with alcoholism. The majority of the people that have hypnotherapy with me to help them with alcohol are simply looking for a way to cut down or cut down on binge drinking. You don't have to do what Ali did and have aversion therapy, in fact often just working on taking back that control and cutting down works much better than trying to do something that you may not really be sure of.