Former TV star and radio presenter moves to print
Posted on
I woke up this morning to a really pleasant surprise when browsing the local paper website. The Redditch Advertiser have published an article about me writing an article for the Hypnotherapy Journal....
Here's the article and a copy of what is written in it too!
http://www.redditchadvertiser.co.uk/news/11497153.Former_TV_star_and_radio_presenter_moves_to_print/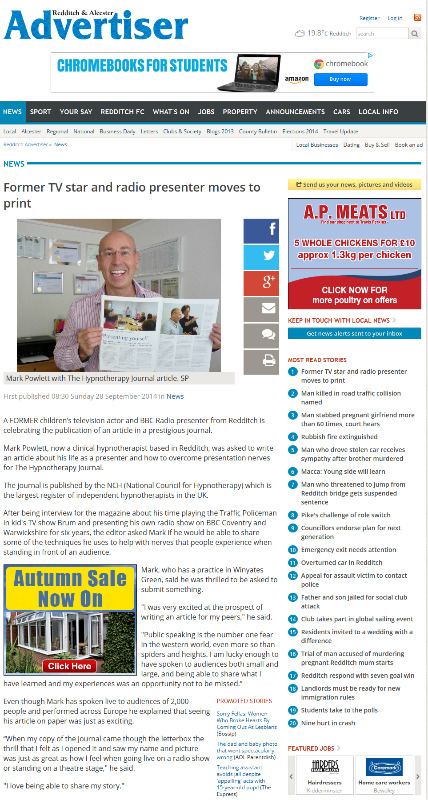 A former children's television actor and BBC Coventry and Warwickshire Radio presenter is celebrating the publication of his article in his professional journal. Mark Powlett, who is now a Clinical Hypnotherapist, was asked to write an article talking about his life as a presenter and how to overcome presentation nerves for The Hypnotherapy Journal. The journal is published by the NCH (National Council for Hypnotherapy) which is the largest register of independent hypnotherapists in the United Kingdom.
After writing a profile piece about Mark and his time playing the Traffic Policeman in kids TV show Brum and presenting his own radio show on BBC Coventry and Warwickshire for six years, the editor asked Mark if he would be able to share some of the techniques that he uses to help with the nerves that many people experience when standing in front of an audience.
Mark, who helps people suffering from stress and anxiety by teaching them ways to let go and manage stress, said,
"I was very excited at the prospect of writing an article for my peers. Public speaking is the number one fear in the western world, even more so than spiders and heights. I am lucky enough to have spoken to audiences both small and large and being able to share what I have learned and my experiences was an opportunity not to be missed."
Even though Mark has spoken live to audiences of 2000 people and spent many years talking to Coventry and Warwickshire residents on the radio he was surprised by how excited he felt when he saw his name in print.
"When my copy of the journal came though the letterbox the thrill that I felt as I opened it and saw my name and picture was just as great as how I feel when going live on a radio show or standing on a theatre stage. I love being able to share my story"
You can find out more about Mark's journey at www.markpowlett.co.uk or call.... 07980 233160